NeNe Leakes announced this week that she's not going to be on Season 13 of Real Housewives of Atlanta. She didn't say for sure that she was never returning to the franchise she helped kick off, and Leakes has stepped away from the show before, only to return for Seasons 10 through 12. However, based on how emotional and short Leakes' announcement video was, and her hurt feelings after the Season 12 reunion, we have a feeling she's done for good.
If that's the case, we're certainly going to miss her one-of-a-kind brand of shade and catchy phrases. From telling people parts of their vagina have left their bodies to "THE DOOR IS CLOSED!" nobody does it like NeNe Leakes.
With it now official that you won't be seeing her going at it with the girls, we thought it would be nice to gather up some of her most notable quotables over the span of her years on RHOA. Considering we say a lot of them in our everyday lives, it's safe to say that Leakes, whether you were a fan of her on the show or not, was as Andy Cohen put it, "an icon of the genre."
Raise your hands if you've said, "Whew, chile. The ghetto!" It's a hilarious quote from Leakes, which was said when the RHOA HBIC stopped by Kenya Moore's hotel digs to help her find a new and better place in Season 6. From the minute she stepped out of her Range Rover, she made it clear how uncomfortable she was with the surroundings Moore had chosen to call home. The end result was this classic saying.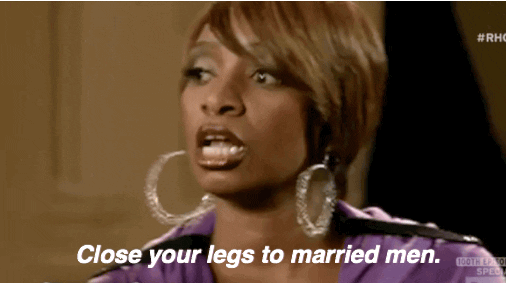 Leakes and Kim Zolciak-Biermann are known for being on-again, off again friends. During the first RHOA reunion, "Wig," as Leakes would eventually start calling her, revealed that her beau "Big Poppa" was still married, but allegedly working on getting a divorce from his wife. Leakes responded by telling sis to "Close your legs to married men." A classic.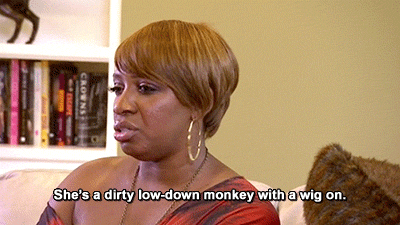 Some of Leakes' most feisty criticisms/phrases were directed at Zolciak-Biermann. One of the craziest was when she said she was a "dirty low-down monkey with a wig on" chile. Despite that dig, which would have been all we  needed to be done, the ladies managed to be able to be friends again and are presently friendly.
Somebody who could go toe-to-toe with Leakes was another RHOA vet: Sheree Whitfield. As Leakes was stepping into other realms of television, including scripted television in Glee and the then hit show Celebrity Apprentice, Leakes had to let Whitfield know that she was "very rich" when her co-star started counting her checks.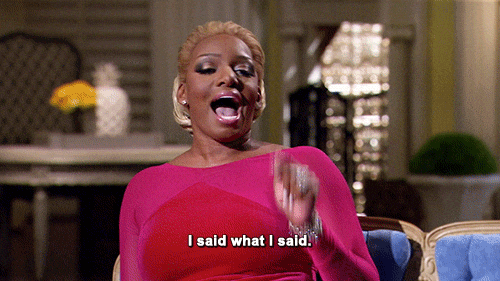 What comes after "I said what I said"?
"Okay, well what you said was some bullsh-t!"
Leakes and Kandi Burruss argued during the RHOA reunion over comments the star made about Burruss's mom "stooping low" enough to throw a shoe at show friend, Carmon. When confronted about it at the reunion, Leakes stood her ground and made it clear "it ain't changing over here."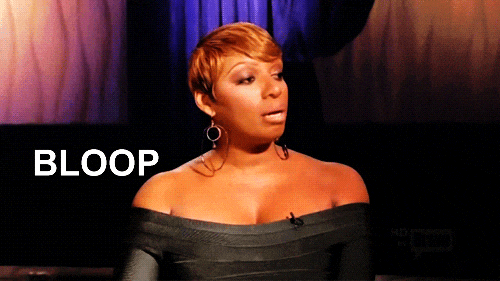 It's a simple one, but it goes a long way. It's Leakes' classic saying for when a truth bomb has been dropped on you, whether you like it or not. One of the first times she used it was during the Season 3 reunion while going back and forth with Phaedra about whether or not she knew her from their Athens, Georgia days.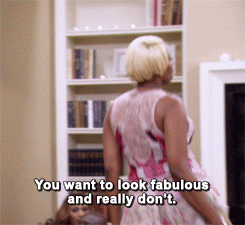 Leakes was on one in this, chile. During her pillow talk party in Season 6, which went all the way left, she had all the shade to throw Moore's way for being late to the party. When an "extremely late" Moore tried to tell her "You look fabulous," Leakes responded, "You don't! You want to look fabulous and really don't."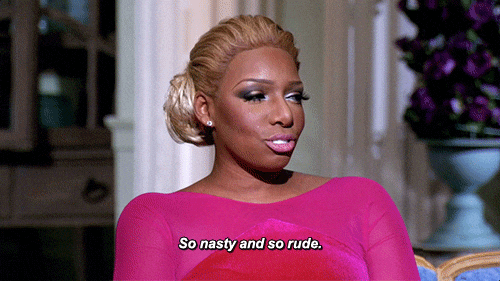 Another go-to reunion line! When Leakes and Moore were at each other's throats in Season 6, Leakes was asked about whether or not she had ever met Moore's then-boyfriend, the "African prince." When Moore said she basically hadn't after running into the man, Moore claimed that her boyfriend said Leakes was "so nasty and so rude." The RHOA star began to mock Moore, flipping the comment into a comical catchphrase (with a wink and smile to really push it over the top).
Who can forget all the drama that was caused by Leakes calling Cynthia Bailey's ex-husband, Peter Thomas, the b-word? When Thomas made it known how disappointed he was by Leakes' behavior during the masquerade ball event that Moore put together, she had no time for his feelings, especially when, during a heated exchange, he called her husband Gregg the n-word. As she put it, he needed to stay out of women's business: "You need to stop trying to be a damn b—h."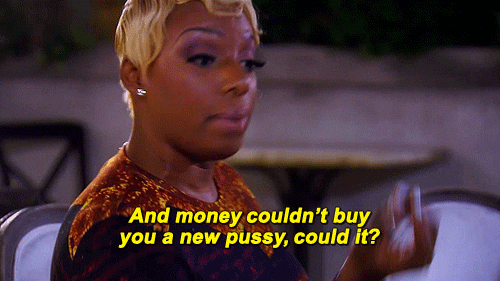 Claudia Jordan kept poking the bear and she got quite the verbal tongue-lashing from Leakes during Season 7. During the group trip to Puerto Rico, the two ladies hit each other below the belt, but perhaps Leakes' most controversial line was saying that all the money Jordan worked for without having to be in the strip club (as Leakes had at one time) couldn't afford her a new vajayjay, alleging that the beauty had been with a number of men in the industry. Jordan gave her a run for her money for sure, but most people only remember Leakes' digs from that moment.