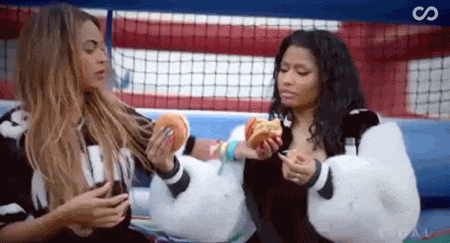 I don't care what dietitians say. Fast food is amazing.
Of course, it's not the best for you, but when you have a craving for something, occasionally indulging isn't as problematic as you think when you're attempting to eat better. Remember: everything in moderation.
Even celebrities know that. And despite the fact that many are known for super strict diets that we've even attempted before, even they give into temptation from time to time. They love tacos, and burgers and pizza and fried chicken and Ramen and ice cream and chocolate and all of the same things that you covet when your period has your dietary habits all out of wack. Just ask Ciara about her guilty pleasures: "Pasta! Oh, and I also love Oreos and ice cream. And green tea ice cream. And pistachio ice cream."
Even Janet Jackson, known for her ability to get in killer shape, has some guilty pleasures too (even if they're not all that fatty, salty, sugary or carb-y): "I don't eat meat anymore, just fish occasionally and veggies. But I love catfish. I love a fried fish. But I'm also crazy about grilled fish. I love Snickers."
And Teyana Taylor, despite her killer abs, can't get enough of junk food: "I love the purple bag of Skittles. I like powdered donuts by Hostess. I like Honey Buns by Little Debbie. I love Hot Cheetos. Cheetos Puffs. I love sour Starbursts. Oreos — the golden Oreos. I love pickles a lot, but I hate relish. That's crazy."
With all that being said, if your cravings have been getting the best of you for one reason or another, don't feel terrible about it. No one eats super clean all of the time (well, maybe raw vegan Mya, but she's an anomaly). For proof of that, check out 12 photos of some of your favorites enjoying fast food, as well as junk food with no regrets.
Kerry Washington
Karrueche Tran
Cardi B
Beyoncé
Serena Williams
Kelly Rowland
Chrissy Teigen
Tyra Banks
Ciara
Angela Bassett
Teyana Taylor
Janet Jackson