If you thought you knew everything you needed to know about Faith and Biggie's relationship, think again. Recently, during a sit down with NORE's podcast "Drink Champs," Faith revealed that she and Biggie used to eat each other's a$$.
I kid you not.
https://twitter.com/KC17__/status/1019287934820864000
NORE: "Did BIG eat a$$?"

Faith Evans: "He ate mine a couple times…"

But the real tea came with the next sentence.

Faith: I mighta ate his back."

NORE: "She reciprocated."
Whew chile!
God rest the dead but this tweet right here summed up my thoughts and feelings about this here sexual scenario.
Faith will be blessed for this act of sacrifice and kindness. The whole conversation has us thinking–not only would we eat a man's a$$ but the conditions that would have to be in place for us to do so. Check out our list and be sure to add your requirements in the comments below.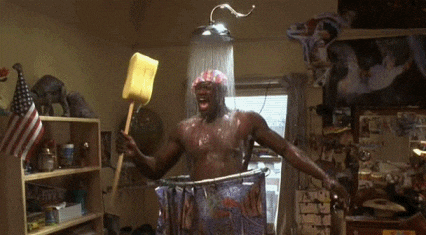 You saw him wash it
Let's be honest, the biggest hangup for sticking your tongue around a man's anus has everything to do with his level of cleanliness. We all know what goes down in that region. So if you're going to venture into that dark forest, you want to know that you're doing so safely.
He takes some tips from gay men
Gay men know a thing or two about anal sex and how to do so safely. We won't go into detail about what they do — but it could involve skipping meals, sprays, enemas–just to make sure your night is not ruined by any type of fecal matter.
He just had a colon cleanse
If you don't trust that he got everything gone, then you can be assured that a medical professional probably did. If ever there was a night to try, the night after a colon cleanse will ensure that there's no risk.
No history of streaky draws
Don't front. Most men aren't necessarily known for their stellar hygiene. If you question his wiping technique or have seen evidence that he doesn't always do a good job then this might not be something you want to try with this man in particular. But if his whites are white when they end up in the hamper, then there's a good chance you can trust him with your tongue.
Dental Dam
There's some great assurance in knowing that your tongue won't make direct contact with his actual butthole. Safety is sexy.
He eats yours
What is a relationship without reciprocity? If this is something he also feels comfortable doing with you, then there's more of an incentive to return the favor. If you know how good it feels, why wouldn't you want your partner to experience that same pleasure?
You get a kick out of it
The assumption is that this isn't something women would enjoy doing. But there are some women who like being the ones to expose a man to something different. Who enjoy inhabiting the role of freak and sharing an experience with someone they care about.
You want to surprise him
Black men have an issue with masculinity–as in the boundaries are often limited and rooted in homophobia. If you want to push him past his comfort zone a little bit and show him that there is pleasure on the other side of his prejudices, this might be something you want to try.
He promised to pay your student loans afterward
Some would call this prostitution, sure. But that student loan debt is real and if you evaluate your life, you might find you're open to more than you thought as well.
You love him
In the words of Deborah Cox, love will make you do some crazy things. Love covers all. So if your man has got you sprung with your nostrils wide open, then why not?!