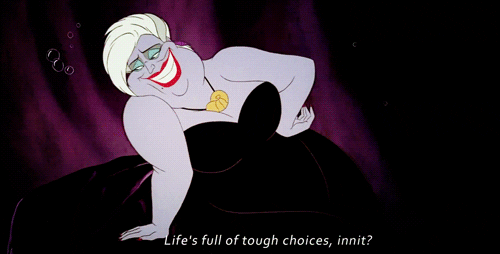 I love a Disney movie. I'm into storytelling and Disney has mastered that field in the most mainstream, commercialized way. So I feel an affinity to the characters I watched as a child. And for the most part that included the heroines or protagonists: Cinderella, Simba, Aladdin, Princess Jasmine. But in the instance of The Little Mermaid, while I wanted Ariel to ultimately win, there was something very alluring about the villain in that film: Ursula.
Ursula, was something like the underwater version of Cruella Deville—but with more swag. With lavender skin, bold makeup, hair that stood up in the ocean and a body that rolled, jiggled and bounced to the beat, she was fly. In reality, Ursula was based on legendary Drag Queen Divine, played by John Waters. But given all that Black people have contributed to the lexicon and mannerisms of drag, ballroom and LGBT culture, I don't think it's too much of a reach to recognize that some of Ursula's mannerisms, her raspy voice, that "innit," her curves can be easily traced back to Black women.
Bustle wrote an entire think piece about how Ursula lives on the fringes of society but still understands that a woman's greatest power is her voice. If that's not emblematic of a Black woman, I don't know what is.
But in the live-action version of the film, there have been talks that Lady Gaga is being eyed for the role of Ursula.
According to Screen Rant, Disney wants the pop-star turned actress to portray the villain in their live-action version of The Little Mermaid. An insider apparently shared the Disney executives have included Gaga's name on their wish list. But it's still early and all of this is unconfirmed and still, just a rumor. Personally, I could see Gaga as Ariel before I could see her as Ursula. I've always envisioned Ursula as Black—but at the very least, she should be portrayed by an actress whose body type resembles Ursula's a bit better. But if Disney wants to appeal to their Black audience—for a change—they should consider a Black woman for the role.
And I'm not the only one who feels this way. Check out some of the Black women Twitter suggested on the following pages.