All Articles Tagged "Sex Addiction"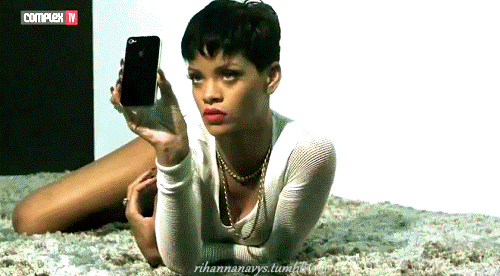 For the average person, sexting is the go-to when your partner is not at arm's length. It can help increase intimacy and even allow you to become more comfortable with your own sexuality. However, like all good things, sexting can become addictive. In a report about how the erotic pastime can control a person's life, Broadly followed a nursing student named Sarah who has sexted hundreds of men. She even revealed that there were weekends where she didn't leave the house because she spent the entire time masturbating.
Sarah started to sext boys ten years ago, while she was still in high school. She told Broadly, "I was the fat girl at school so I kept to myself a lot. It gave me an outlet for sexual feelings that I wouldn't have got in real life." Despite her teenage hang-ups, Sarah began college and even entered a long-term relationship with a woman. Although her life appeared seemingly normal, Sarah still found herself sexting men every night using the app, Kik. When she spoke about the possibility of breaking her addiction, Sarah said the mere thought of it makes her "stressed out." She revealed, "A lot of my chats are playing out that fantasy of being with a man. There have been times when I've tried to stop, but it has never worked."
Although the idea of no longer sexting gives Sarah anxiety, the media contact for Sex Addicts Anonymous namedtold Broadly, online sex addictions can make people lose their jobs, flunk out of their academic programs and find themselves in debt. He also noted many sex addicts hardly invest in real-life romantic relationships because their sexting relationships engulf them.
Paula Hall, a psychotherapist who treats sex addicts, disclosed that compulsive sexting is a disorder. Although some may think it's performed in order to reach sexual satisfaction, the person is more inclined to sext because they enjoy the "seeking and searching for a partner," not necessarily the sexual enjoyment. Hall told Broadly, "Lots of sex addicts don't actually have sex. I work with people who are messaging and going on webcam—they don't actually meet up because they get enough excitement from all of that." Hall also claimed many women begin their sexting addictions with the intention to protect themselves. She explained, "They're less likely to have stranger-sex than men because it has more dangers for them; generally [women] have less physical strength than men, risk unwanted pregnancy, and are more likely to get judged for it."
In addition, women may begin sexting in order to affirm themselves. For example, a 40-year-old woman named Tara had her engagement dissolved because her fiancé caught her sexting with another man. She promised she wouldn't do it again, but he caught her three more times and told her to leave their home. Tara sought help for her behavior and her counselor told her the addiction was based on self-esteem issues. "He didn't think I was addicted to sexting so much as it was a self-esteem issue. He said I really wanted the validation that I was attractive."
Hall concluded that sexting has become dangerous because people are seeking to be validated with a high level of urgency. So urgent, there are sexting addicts who spend at least eight hours a day on their phone, indulging in their addictive behavior while still appearing to lead normal lives. Unfortunately, the addiction can further break down how they communicate with real-life romantic partners and affect their work ethic. Of the latter, social worker Robert Weiss told Broadly, "If this is the primary way they get their emotional and sexual needs met, then they're missing the thing that really feeds us: to be appreciated and valued for who we are and not just what we look like."
Sex addiction is a very real thing but some celebs have used the addiction as a lame excuse for sleeping around. Here are some famous people who have claimed to have an addiction to sex.
Tiger Woods
Tiger Woods was the number one golfer in the world but all of that came crashing down when his wife Elin found out about his extramarital affairs. More than a few women came out of the woodwork and claimed to have slept with Woods. The billionaire golfer admitted to his wrongdoings and said he was addicted to sex. Woods entered rehab in hopes of saving his marriage but the mother of his two children filed for divorce anyway.
The desire to express our sexuality is a natural part of life. And to seek and find pleasure and fulfillment in expressing it is ok. However, if you are engrossed with sexual thoughts, feelings or behaviors that are causing significant distress to your health, job, relationships or other parts of your life, then you may be facing a sexual addiction.
Sexual addiction is defined as "engaging in persistent and escalating patterns of sexual behavior, despite increasingly negative consequences. A person with a sexual addiction is obsessed with sex, or has an abnormally intense sex drive. Their addiction may involve an obsession with socially accepted, normal sexual behaviors or it may involve fantasies or activities outside the bounds of culturally, legally, morally or socially accepted sexual behaviors.
Sex addicts' lives are dominated with sex and the thought of it, so much so that other activities and interactions become seriously affected. In other words, a person who is addicted to sex will continue to engage in certain sexual behaviors despite the consequences to self and others. Some of those consequences may include destroyed relationships, potential health risks like sexually transmitted infections, financial problems, loss of employment, or even arrest.
People with sexual addictions are at a much higher risk for sexually transmitted infections, unwanted pregnancies, sexual dysfunction and damage to the genitals. Another significant consequence is the loss of time and productivity which can result in a loss of job and finances. Debt can mount quickly, and clients can accumulate several thousands of dollars of debt in a short amount of time. In addition, there is a long list of legal consequences, including arrest for solicitation and engaging in sexual acts that are illegal. There are numerous emotional and mental consequences as well and the ffects on the family and partnered relationships can be debilitating.
A sexual addiction is like any other addiction, formed typically by engaging in behaviors that provide physical or psychological pleasure and/or momentary relief from pain. Sex addicts show very similar brain activity to people with drug addictions — they experience a "high" or " a chemical rush" to the brain's reward system similar to the feeling a drug addict gets from taking their first hit of a drug.
Sex addicts experience an irresistible sense of euphoria from sexual activity that seems to go beyond the normal sexual experience; nevertheless, the sexual experience is not about intimacy or even sex. Sex addicts use sexual activity as a means of escaping and/or avoiding the pain of past traumas, unpleasant feelings, negative experiences or outside stressors. Any reward gained from the sexual experience usually results in guilt and remorse. The person promises to change but ultimately ends up repeating the pattern of behavior until they seek out treatment for the addiction.
There is no clear reason why some people develop sexual addictions and others do not. Some hypotheses are: 1) an imbalance of natural brain chemicals that may be related to compulsive sexual behavior and help regulate mood, 2) Sex hormone levels have a vital role in sexual desire, 3) Certain diseases or health problems may cause damage to parts of the brain that affect sexual behavior, and 4) Changes in brain pathways that cause changes in the brain's neural circuits. Research has also found that sex addicts often come from dysfunctional families and are more likely than non-sex addicts to have been abused; others often describe their parents as rigid, distant and uncaring.
While there is no official diagnosis for sex addiction, some clinicians and researchers have attempted to define sexual addiction by the following criteria:
Frequently engaging in sex and with more partners than intended
Being preoccupied with or persistently craving sex
Multiple unsuccessful attempts to limit, cut back or stop sexual activity
Thinking of sex to the detriment of other activities or continually engaging in excessive sexual practices despite a desire to stop
Spending considerable time in activities related to sex, such as cruising for partners or spending hours online visiting pornographic websites
Neglecting obligations such as work, school or family in pursuit of sex
Feeling irritable when unable to engage in the desired behavior
Continuation of the sexual behavior despite negative consequences of persistent or recurrent social, academic, financial, psychological, or physical problem that is caused or exacerbated by the sexual behavior
Need to increase the intensity, frequency, number, or risk of behaviors to achieve the desired effect, or diminished effect with continued behaviors at the same level of intensity, frequency, number, or risk
Giving up or limiting social, occupational, or recreational activities because of the behavior
Frequently engaging in sexual behaviors to a greater extent or over a longer period of time than intended
There is effective treatment available for individuals with sexual addiction. The goal of sexual addiction treatment is not lifelong abstinence, but rather a termination of compulsive, unhealthy sexual behavior. Since it is very difficult for a sex addict to distinguish between healthy and unhealthy sex, it is important that treatment includes addressing this issue. The second goal of sexual addiction treatment involves facing some of the most difficult issues: denial, guilt, shame and depression associated with the addiction. The third goal is to help identify triggers to unhealthy sexually behaviors and ways to avoid coming in contact with triggers. Various methods of treatment may include:
12-Step Programs: Programs such as Sexaholics Anonymous apply principles similar to those used in other addiction programs, such as Alcoholics Anonymous and Narcotics Anonymous. By admitting powerlessness over their addictions, seeking the help of God or a higher power, following the required steps, seeking a sponsor and regularly attending meetings, many addicts have been able to regain intimacy in their personal relationships.
Therapy: This approach, which can be done individually or in a group, looks at what triggers and reinforces actions related to sexual addiction. It also focuses on addressing the emotional baggage and/or effects or past trauma. The unique aspect of group therapy versus individual therapy is that it allows you to see that your problem is not unique. It also enables you to learn about what works and what doesn't from others' experiences, and draw on others' strengths and hopes for support.
Medication: Recent research suggests antidepressants may be useful in treating sexual addiction. In addition to treating mood symptoms common among sex addicts, these medications may have some benefit in reducing sexual obsessions.
There are also support programs for partners and/or family members of sex addicts. If you or someone you love may be experiencing a sexual addiction, contact your local physician, clinician, or sex therapist. Recovery is possible!
Dr. TaMara loves nothing more than talking about sex! At the age of 13, she told her mother she wanted to be a Sex Therapist! Her passion is deeply rooted in spreading messages about healthy sexuality. Dr. TaMara is a sexologist, sex therapist, educator and motivational speaker with more than 20 years of experience speaking, writing and teaching about sexuality. She travels the country helping individuals embrace and honor their sexuality. Dr. TaMara has published numerous books and articles. She is the owner of L.I.F.E. by Dr. TaMara Griffin Live Inspired Feel Empowered LLC-LIFE and publisher and editor-in-chief of "Our Sexuality!" Magazine for women. Follow her on Twitter, Facebook or Instagram, www.drtamaragriffin.com or www.projectcreatesafe.com.
I sincerely hope this is a rumor and things haven't gotten this bad for Rihanna in the wake of her breakup with Chris Brown, but according to UK site Expose Entertainment, the singer is on her way into sex addiction rehab.
The 25-year-old pop star is likely to begin [a] 12-step program – which follows the same format as alcohol and drug rehabilitation – during her upcoming six-week break from her 'Diamonds World Tour' at The Ranch clinic in Tennessee.

A source told the new UK issue of Grazia magazine: "Rihanna is still desperately in love with Chris. It's like she's obsessed with him and, although he's told her it's over, she just can't get over him.

"After talking it through with a psychotherapist, Rihanna is now considering doing a 12-step program to get rid of her demons."
The Ranch clinic's "Women's Love and Sex Addiction Treatment Program" is the one Rihanna is said to be checking into. It reportedly helps women who have issues with "attracting troubled, addicted, abusive or otherwise emotionally unavailable partners," using treatments as varied as counselling and equine therapy.
Sounds applicable in Rihanna's case, though I would expect if this were true, the singer would've kept the details of her treatment plan under wraps. But since she hasn't gone off about this rumor on Twitter yet, we're going to assume it's true until proven otherwise.
What do you think?
From YourTango 
Do you doubt the legitimacy of sex addiction? Here's why you shouldn't.
Based on the results of a new study about sex addiction, Rachael Rettner of MyHealthNewsDaily, said that "sex addiction is a real thing."
Since I am a Licensed Mental Health Therapist, also certified as a Sexual Addiction Therapist (CSAT), I am very grateful for this new research. I provide services for people who have been gripped by the despair of living a secret sex life for ten, twenty, even thirty years or more.
The devastation in their families is real; the pain and betrayal are not made up. I see it every day as families strive to mend from their loved ones' sexual addiction. Healing from the pain and loss can take years of hard work.
Read the rest at YourTango 
If you've gleaned nothing else from watching Braxton Family Values, you should be able to recognize the signs of a failing marriage. Actually, you don't even have to watch the show to figure that out because the cast member's transgressions are all over the World Wide Web for us to see—particularly those of Trina's husband, Gabe Solis.
For the second time in one season, Gabe has been caught with his pants down—literally—engaged in some sort of cyber affair. This time around, the rumored partner is a transgendered woman by the name of Julisa Abadshian, and Gabe wasted no time clearing up this news, and in the process dropping another bomb. He's a sex addict?
Here's what he told TheYBF:
"Yes, I know I will be the target of many gossip bloggers because of my past record. Like I said, I have NEVER Resorted to same sex affairs or any physical affairs. I know that cheating is cheating and I am in no way making excuses. I am currently in therapy because I have a SEX Addiction Problem. I very much want the help that it will take to restore my family."
This isn't the first time an unfaithful man claimed to be addicted to getting it on after they were caught doing just that. Remember Eric Benet, Tiger Woods, Dominique Strauss-Kahn? I suppose there's no other time you would really announce being a sex addict, other than when you're caught doing the do with someone you're not supposed to, but the admission always comes across as a little contrived when it's made, causing people to question whether the person really has a psychological problem or they're just trifling.
Psychologists can't even agree on whether sex addiction is a true condition like alcoholism or drug addiction, but according to a November article on The Daily Beast, diagnosis is on the rise—as evidenced by the increased number of treatment options. An estimated 3 to 5 percent of the U.S. population could meet the criteria for sex addiction, and those 9 million people have the option of being treated by one of some 1,500 sex therapists practicing today, which is up from less than 100 a decade ago. According to Tami VerHelst, vice president of the International Institute for Trauma and Addiction Professionals, there's a need for these services.
"Where it used to be 40- to 50-year-old men seeking treatment, now there are more females, adolescents, and senior citizens. Grandfathers getting caught with Adult Videos on their computers by grandkids, and grandkids sexting at 12."
But does that make one a sex addict? Not necessarily, but the potential is there. One of the reasons the whole idea of sex addiction may suddenly be appearing out of nowhere is because sex is shoved down Americans' throats now more than ever. And if you have a predisposition to the condition, sexed-up commercials, a raw scene in a movie, or access to Adult Videos online could be the trigger that sends that urge into overdrive.
"Not everyone who looks at a nude image is going to become a sex addict. But the constant exposure is going to trigger people who are susceptible," says Dr. David Sack, chief executive of Los Angeles's Promises Treatment Centers.
That, I can understand. But what I don't get is how the addiction never seems to be an issue until years into a marriage. If you are in fact a sex addict, then shouldn't that behavior be evident all along in some way? I'd be hard-pressed to think Halle Berry or Elin Nordegren would've signed on for marriage to men who displayed that kind of behavior before walking down the aisle. But maybe, as it is with other addictions, different issues—perhaps even stress in a marriage—cause things to spur out of control.
All I know is if someone I was with tried to hit me with that mess after we'd been together for a while, I'd have to say boy, gone. Unless I'd seen evidence of the addiction long before he was caught creeping, I'm inclined to think he just refuses to own up to his ish at that point.
What do you think about sex addiction? Are men using it as an excuse for lack of self-control or do you think it's a real condition?
Brande Victorian is a blogger and culture writer in New York City. Follower her on Twitter at @be_vic.
More on Madame Noire!