(function(d, s, id) {
if (d.getElementById(id)) return;
var js = d.createElement(s); js.id = id;
js.src = '//cdn4.wibbitz.com/static.js';
d.getElementsByTagName('body')[0].appendChild(js);
}(document, 'script', 'wibbitz-static-embed'));
Oh the joys of summer, warm air, summer dresses, and frizz. Yes, we all fight the frizzies at some point between June and September — more often than not — but we have a few tried and true products that will help you beat the heat.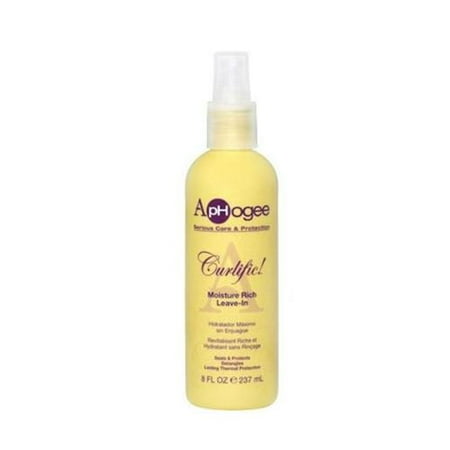 A top leave–in conditioner for those struggling with the major frizz, ApHogee Curlific Moisture Rich Leave-in features moisture -locking technology to stop your hair from becoming dry and prevent breakage. This leave-in also works great as a heat protectant to prevent unwanted heat damage during styling.
From wash-n-go's to twist outs to a sleek bun, I've been using this product for two years and it has never failed me. This gel from Aunt Jackie's helps to control the frizz and give me true definition and shine. It's infused with flaxseed and wheat proteins that are specifically designed for curl enhancing while preventing shrinkage.
TGIN Butter Crème ($15)
You'll surely be impressed by the results of the butter crème by TGIN. The natural butters (shea and cocoa) and oils (Vitamin E and coconut) are the key ingredients that gives this butter crème its rich, creamy texture to provide endless moisture and curl definition that ultimately calms down frizz.
Great for all types of curls and coils, Uncle Funky's Daughter Curl Magic is one of my recent go-to's. Though it's pricey, at $15.99, there are a lot of products in this 12oz pump bottle to last a while. It gives hair a major boost, amazing slip and ultimately controls the frizzes. It's super light so you won't have to worry about it being too heavy or creating a sticky film.
Looking for a product that is 100% free of sulfates and parabens? Consider Darcy's Botanicals Herbal Leave-In Conditioning Spritz. It's a lightweight spray leave-in and detangler that helps you tackle those frizzies while providing moisture. It can also be used on wet and dry hair and act as a refresher in your hair care routine.