All Articles Tagged "shannon brown"
Awww, isn't this nice news to hear on Mother's Day?
On Saturday night, after she was fully dressed for her show in Chattanooga, TN, Monica posted a picture of her protruding belly.  In a gorgeous royal blue dress, Monica didn't need to say anything because it was clear a little one is on the way.
On Twitter, Monica replied to Niecy Nash's well wishes with a thank you and also revealed that she's five months pregnant!
She and husband Shannon Brown, a shooting guard for the Phoenix Suns, have been married since November 2010.  Monica has two sons, Rocko and Romelo, with former fiancé, rapper Rocko. She's also been a very strong parental figure to Rocko's older son Malik and considers him her son as well. Shannon also has a son, Shannon Jr., from a previous relationship. This will be their first child together.
Since they've been together, Monica has been on "pregnancy watch." She's openly stated that she feels her purpose in life is to be a mother so fans are excited as though this is "everyone's" baby.
While Monica and Shannon are surely just hoping for a healthy baby, wouldn't it be nice if she had a little girl?  There's a lot of testosterone in the house already so it'd be cute to have a little girl there for them to start protecting.
Congratulations to the Browns on their new bundle of joy on the way!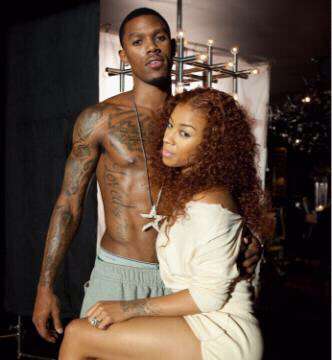 Ever since I heard the slowed beat of Ghost Town DJ's "My Boo" drop, I instantly had Ciara's latest single "Body Party" on repeat. I knew the video would feature her slithering and sliding in moves that would keep EMTs busy for weeks as women across the country blew out their backs and pulled hamstrings trying to imitate the moves for their men.
I wasn't disappointed when Ciara scissored her legs in the air for boyfriend Future as they play out how they first met for the video, but it was like deja-vu as I saw her relationship slowly steal the spotlight from her first two singles. Is it me, or does something happen to a recording artist when they fall in love and choose to flaunt it in their work? After watching Ciara's steamy video for "Body Party," I couldn't help but wonder if she's risking the buzz she's worked so hard to build back by allowing boyfriend, Future, to make so many appearance.
Mixing business and pleasure is a risky move.  There's something about when celebs turn the camera on to their personal lives that causes their careers and their relationships to fall apart.  Here are a few celebs who might want to think about leaving their boo behind-the-scenes in the future.
1. J.Lo
J.Lo had a pretty good buzz going as a singer even if her "hits" were only heard in the clubs, but as soon as Ben Affleck took J.Lo from the block to the yacht in her Jenny From the Block vid, Jenny's singing career went man down for a minute and she was left man-less and a little embarrassed.  Not to mention Ben credited the cameo with almost ruining his career. And who can forget how clearly sprung she was on the track "Dear Ben," in which she sings," I love you, you're perfect." Well apparently the feelings weren't mutual; Ben quickly married another Jennifer after their break up and made like 11 kids with her.  Sting. Word of advice for the former fly girl: You can sing all the love songs you want about your boo, just don't name them after him and throw said boo in all your videos.
Back in February we placed Tamar Braxton on official baby bump watch. There was just something about her Valentine's Day appearance on 106 and Park that seemed a tad suspect. One month later Tamar confirmed that we were on the money by announcing her pregnancy during an appearance on Good Morning America. Now it looks like we may have to do the same for Monica Brown.
We can't say for sure if Monica has a bun in the oven or not, but this past weekend the singer performed at the 8th Annual Jazz in the Garden event at the Sun Life Stadium in Miami, Florida and it appears that our girl was using an oversized handbag, microphones and whatever else she could get her hands on to hide something behind that pink loose-fitting blazer.
According to the YBF, concert attendees say that the singer's belly was protruding a bit more than usual and in the press room following her performance, she rested her hand on her stomach the majority of the time. Not to mention that the 32-year-old mom of two appeared to have used very specific posing angles while being photographed. Now, we could be overthinking things, but I suppose we will have to wait and see because time will certainly tell. Until then, we're placing Monica on official baby watch! This would be her third child, but the first that she would share with hubby Shannon Brown.
Turn the page for more photos of Monica from the event. What do you think? Is she or isn't she?
The "Basketball Wives" franchise is losing. Ratings appear to be plummeting and fans of the VH1 series are finding this season painful to watch with its sub-par storyline and uninteresting characters. A few weeks back we reported that viewers are literally begging Ms. O'Neal to put an axe to the Monday night train wreck. When one man took to Twitter to voice his concerns to the "Basketball Wives" visionary, she suggested that a possible solution is giving the show a complete makeover, which can be assumed to mean a new cast. Well, you know what Shaunie? That idea doesn't sound half bad. Actually, it is probably one of the best things to come out of your mouth since…well, I don't know when. But, you catch my drift. And she wasn't kidding, she cut a majority of the cast this week leaving only Jackie Christie and Draya. So now that we're back to the drawing board, here's a lineup that might work next season. If you there will actually be a next season…
Most times when when we hear about Monica and Shannon's relationship and love for each other, it's from the perspective of the Atlanta songstress. But yesterday in a cute couple move, the Brown's appeared on VH1′s Morning Buzz and we got to see a little bit of their magic together up close and personal.
Though a lot of the convo centered on Shannon's career, how they feel about the Olympics, and why Monica cant swim, when the host asked Shannon how he feels sitting in the audience watching Monica perform he said this:
"I'm always in awe. I wonder how such a powerful voice can come out of such a tiny body. Every time I see her it's crazy."
Monica said she returns the favor at her hubby's games.
"I'm screaming. I'm outrageous. I'm energetic like that…."
The couple also completed in a few love games and showed off their healthy matrimonial competition. Check out the clips below.
More on Madame Noire!
As her music reveals, Monica has been through it in terms of relationships. But when she met Lakers' player Shannon Brown in June of 2010 while shooting her "Love All Over Me" video, her luck definitely changed. Life imitated art and the love interest in that video became the love interest of her life.
They dated, got engaged, and married all in less than six months. Theirs was a whirlwind romance, but definitely seems to be going strong nearly two years later.
During the Radio One Fest, Monica sat down with TT Torez of iPowerRichmond and talked about her love life. HelloBeautiful reports:
We met on the set of my video shoot "Love All Over Me," reflects Monica."That was the first time I had ever laid eyes on him, but I knew it wouldn't be the last. It was instantaneous. He was very genuine. He's so easy on the eyes. You kind of get over the outer appearance doing what I do after a while," she continued.

"It doesn't take that long in this business, you see how ugly people are on the inside, so with him is was really interesting I think to me that the first time we met he was talking about his grandmother."

The "It All Belongs To Me" singer was wary of their connection at first. "I fought a lot of it because I was a single mom with two small boys so I was fighting it. I stated praying for confirmation," she tells TT.

"Sometimes as a woman you have to be OK with not knowing all the answers. I started asking for confirmation and I enjoyed every second with him instead of thinking so much and try to map out how it should be. I sat back and let him be a man and let him lead him into what we are now."
Well, that plan looks like it definitely worked out for her! She didn't say what her "confirmation" was. Him proposing, maybe?
Of course, you can't date someone in the league without encountering rumors, but these two seem to have weathered them pretty well. For those wanting an inside look at the love that started with just one look, Monica has already said there won't be a "Monica and Shannon Brown" reality show, so keep dreaming. That's good for them though cause we know that reality shows tend to destroy marriages. It looks like they're in it  for the long haul.
Follow Alissa Henry on Twitter @AlissaInPink
More on Madame Noire!
"Basketball Wives" and the ladies who star in the series aren't as bad as people make them out to be, Monica and Brandy said during a recent interview with the Russ Parr Morning Show. In addition to talking about the entertainment aspect of the VH1 hit, both ladies think the reality women are a lot nicer than they let on—and considering Monica is a real basketball wife, and Brandy used to be engaged to a pro baller, they ought to know.
"As far as the show goes, I have no judgment that I place on other people. I wish every single one of them the best," Monica said on the morning show.

"If you meet women who are on the show, you'd be surprised by how many of them are genuinely really good people. You can't judge people, especially by the things you see strictly on television, especially for an hour, one day a week."
Monica also said that though a lot of the cast members may not be real wives, they do have careers outside of the athletes in their lives, and that she can respect.
"I'm excited to see a lot of them. They have lip-glosses and clothing lines. It opened a lot of doors," she said. "There's a reason they chose that path. Hopefully, that path takes them to all the other places they want to be."
Since Brandy's had experience being in many of these women's shoes as the former fiancé of Quentin Richardson, she also weighed in on the topic.
"As far as dating a basketball player, it wasn't about dating a basketball player. It was about the connection between the other person and myself," she said.
Monica shared that same sentiment when she spoke on her marriage to NBA star Shannon Brown.
"I am very happily married, and I think that the reason I am so happy in my marriage is because I don't look at him just as an athlete. We didn't meet under false pretenses. We met each other as Shannon and Monica."

She also said she'd love her husband even if he wasn't a pro athlete. "It's my job to support, uplift, and be there."
That's probably the main difference between her and the women on the show.
Brande Victorian is a blogger and culture writer in New York City. Follower her on Twitter at @be_vic.
More on Madame Noire!
Monica is so in love. Yesterday, she appeared on Wendy Williams to dish on her one year of wedded bliss to husband Shannon Brown. In the clip below she talks about what attracted her to Shannon after she decided she'd be by herself, and why the couple decided to get married Justice of the Peace style before the actual wedding. Plus her boo was in the audience showing support!
She tells Wendy, "I always say we had one long date that's gone on for almost two years now because we've been married a year as of last week."
Read more of the interview on NecoleBitchie.com and check out the video below. Don't you love this couple?
Brande Victorian is a blogger and culture writer in New York City. Follower her on Twitter at @be_vic.
More on Madame Noire!
In your opinion, how soon is too soon to get engaged to be married to someone?
"Basketball Wives" star Evelyn Lozada and NFL player Chad Ochocinco were engaged after dating for four months. Singer Monica and Los Angeles Laker Shannon Brown met in June 2010 after he was her co-star in the video for "Love All Over Me." In October of that same year, Monica confirmed her engagement to the baller. Now, these two celebrity relationships have two different endings: Lozada and Ochocinco say they plan to be engaged for a while (we're hoping La La & Carmelo Anthony style for some years), while Brown and Monica were wed a first time in November in a private ceremony, and once again this past Saturday in a huge ceremony for friends and family. But based on comments by people on gossip blogs and in articles around the web, both scenarios bring to the forefront the question of how long people should wait to get engaged.
From arrests in the Congo, to singers losing weight and/or getting married, we've got those juicy news nuggets that'll keep you up-to-date in the world! Check them out.