All Articles Tagged "kidney failure"
If you've lived in Chicago and you listened to the radio at any point in your commute, then you know Doug Banks and the Doug Banks Radio Show. But the radio host and TV personality, whose program would eventually become nationally syndicated, had an influence that went far beyond the city. And that's why the news of his death today is so shocking and heartbreaking. According to the ABC affiliate in Chicago, and Us Weekly, Banks passed away on Monday due to complications from diabetes and kidney failure. He was just 57 years old.
Banks, who was born in Philadelphia, made his presence known all over Chicago radio, including WGCI and V103. He was also on the local ABC show 190 North up until 2014, and after his show was placed back to back with Tom Joyner's years ago, they were deemed the Turntable Brothers. Banks also had an impact and would become quite popular while working for stations in Detroit, Los Angeles, and San Francisco. He would eventually reach syndication status and become even more well known. But Banks started to have issues with his health that caused him to take a break from the airwaves, particularly during this past winter. According to WBLS, he returned to the airwaves in February and was hopeful about the next chapter in his career. He was literally just on the radio this past Friday and attended the Black Women's Expo event on the same day. His abrupt passing has shocked his many fans, both everyday listeners and celebrities alike:
Doug Banks . RIP. 2016 the year the music died. pic.twitter.com/dRreZX5FlB

— Chris Rock (@chrisrock) April 12, 2016
Sorry to hear about the passing of #DougBanks is was an intricate part of me building my brand .… https://t.co/JAr3ne9jkW

— CedricTheEntertainer (@CedEntertainer) April 12, 2016
Report: Critically Acclaimed Veteran Radio Host Doug Banks Has Died
One of my favorite people. He always had a smile.I'll miss him. #RIP

— Kym Whitley (@kymwhitley) April 12, 2016
Rest in peace, Doug Banks. A true radio legend. You will be missed.

— Wendy Williams (@WendyWilliams) April 11, 2016
#DougBanks, a talented brother,longtime friend & community servant. The voice of hope, joy & info has left us. #RIP pic.twitter.com/VW7brEWrfA

— Rev Jesse Jackson Sr (@RevJJackson) April 11, 2016
Sad to hear about Doug Banks. He was a HUGE supporter of my music and got #NobodySupposedToBeHere in heavy rotation right away at WGCI.

— Deborah Cox (@Deborah_Cox) April 11, 2016
So sad to hear of the passing of #DougBanks He was such a sweet, considerate man & always very supportive. Truly will be missed. RIP

— Gabrielle Union (@itsgabrielleu) April 11, 2016
DOUG BANKS Radio Legend.
Rest in Power https://t.co/esp2ViIbOK

— Nick Cannon (@NickCannon) April 11, 2016
R.I.P. to Banks, who was a trailblazer in media. I personally listened to him often growing up in Chicago. Our condolences to his wife, Wendy, his children, and the rest of his family during this heartbreaking time.
Almost exactly one month since "Moesha" star Yvette Wilson announced that she was battling cancer for a second time and was in need of funds to pay for her much-needed treatment, the actress has died.
At just 48 years old, Yvette was battling Stage 4 cervical cancer on top of needing an organ donation for failing kidneys. A website known as the Yvette Wilson Cancer Sucks fund was set up to increase the actresses odds of getting the medical attention she needed, and at the time the fundraising ended on June 9, $13,000 had been raised, which was 56% of the foundation's $25,000 goal.
Though we hadn't seen much of the comedic star since her days as Andell Wilkerson alongside Brandy on "Moesha" and then as Monique's best friend on "The Parkers," Yvette was making audiences laugh long before those sitcom roles with parts in "House Party 2," "House Party 3," and "Friday." After leaving the sitcom world, she went on to appear on show's like HBO's Def Comedy Jam doing what she did best, make people laugh.
So far, Shar Jackson is the only one of the funny lady's former costars to speak on her passing. She had been sending out tweets over the past few days that hinted Yvette's health was rapidly declining and last night she confirmed her death, tweeting:
Oh god….. My heart is soooo unbelievably broken ….

I wanna thank all my tweeties for their prayers but god has chosen to take my sister Yvette home.. …
We're definitely praying for Yvette's family and friends at this time.
More on Madame Noire!
By now you know that Nick Cannon hasn't been in the best of health recently. At the beginning of the year he and wife Mariah Carey were photographed in a hospital bed for what was originally diagnosed as mild kidney failure. Then after that doctors found blood clots in his lungs. Now the media personality has revealed a "lupus-like" autoimmune disease is the source behind the two health scares.
Cannon told People, "It's a lot of stuff but it's all in order now."
Attempting to focus on his health, Cannon said he tries to get six hours of sleep and take it easy when he's home.
"I feel blessed to be alive," Cannon said. "If it wasn't discovered, I don't know [what would have happened]."
We wish him improving health and strength as he and his family deal with this issue.
More on Madame Noire!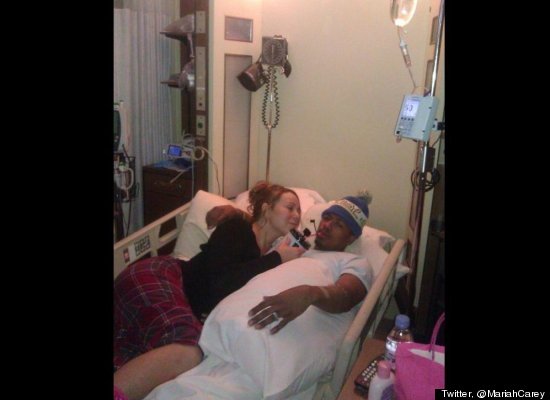 Looks like the end of the holiday season wasn't so jolly for the Cannons. While vacationing in Aspen, Colorado, Nick was diagnosed with mild kidney failure and has been hospitalized
Mariah twitpiced this photo of she and her husband in the hospital bed and also asked fans to pray for Nick.
Sounds pretty serious. We hope he recovers quickly.
See what else Mariah had to say about role reversal in her marriage over at Black Voices.
More on Madame Noire!
Etta James' live-in doctor is asking for prayers for the blues singer, saying she is now terminally ill.
James' health has been on a steady decline over the past few years, and although people knew she was sick, her doctor says people didn't know just how sick. Two weeks ago, her chronic leukemia was declared incurable, and the singer also suffers from dementia and kidney failure.
The doctor says she's spreading the word about her condition so fans can send prayers her way.
Brande Victorian is a blogger and culture writer in New York City. Follower her on Twitter at @be_vic
More on Madame Noire!
Lauretta Cheek, 42, of Greensboro, NC, was already on probation for administering butt injections in 2008 that left three women with kidney failure, and now she's picked up a new charge for injecting an exotic dancer's backside with a concoction that left her disfigured.
The stripper, who was from Charlotte, met Cheek in a hotel room last year and paid her $500 for the injection. Cops aren't sure what exactly was in the substance, but it sent the dancer to the emergency room twice.
"It appears that the substance that was injected into her basically burned its way back out," Guilford County Sheriff's Det. Craig Cotten said. "It's not just one big spot. Being a liquid or gel-type of material, it kind of went in different directions and obviously got infected and left pretty significant scarring."
In the 2008 case, the substance Cheek used was determined to most likely contain types of infertility drugs. As part of the plea deal following the incident, Cheek closed the spa she owned and promised she would no longer perform medical procedures. Clearly she didn't hold up to her end of the deal. On Wednesday she was charged with one misdemeanor count of practicing medicine without a license and released on a written promise to appear in court.
My only question is, does anyone have Google? If I'm going to let some random person inject a substance into my body, I'm going to at least see if they have a criminal background. When will people learn you get what you pay for?
Brande Victorian is a blogger and culture writer in New York City. Follower her on Twitter at @be_vic.
More on Madame Noire!
Every time I think about the movie "Soul Food", I think about the grandmother. The matriarch of the Joseph family who raised her daughters, inspired her grandson and threw down when it was time for Sunday dinners. It's a heart warming image that represents so many families across the world.
But just when I start to slip into a nostalgia filled moment, I think about her on that hospital bed, hearing the news that they wanted to amputate her leg, her struggling to speak to her grandson during her last moments and her eventual death.
That was diabetes. That's what it looks like and there are mindsets and behaviors that lead to it.
In the case of the Joseph family it was those Sunday meals. As delicious as they were, were they worth losing the Joseph matriarch?
Diabetes is real for African Americans, especially us women. According to WomensHealth.gov, 1 in 4 non-Hispanic black women, over the age of 55 have diabetes. So it's more than likely you know a woman suffering from this disease. Maybe that's why people related to the movie so much, we saw our own families and friends in that character.
The disease so many in our community refer to as "sugar" is really the body's inability to produce insulin which balances the amount of glucose (sugar) in your system. The side affects can be alarming, including amputation, kidney failure, diabetic comas and even death.
But, there is good news. The disease is completely preventable, even if you're genetically predisposed to it. A trial, sponsored by the National Institutes of Health, found that people who had high glucose levels were able to delay or completely prevent diabetes.
The secret to their success isn't anything you don't already know. The participants lost 5-7 percent of their body fat, engaged in 30 minutes of physical activity and made healthier food choices and limited calorie intake.
It really is pretty simple and yet so many us aren't willing to make these changes. Consistently indulging in rich, fatty foods and avoiding any type of exercise to preserve our hair are behaviors and mindsets that are literally shortening our lives.
To raise additional awareness about this disease among black women, we'll be featuring posts on ways to prevent diabetes and maintain your health once you've been diagnosed.