I know some of us had our doubts about the decision to make a sequel to the classic, iconic Coming To America. Truth be told, the remakes and reboots are getting a little out of hand. Still, the information that's coming out about this particular sequel has piqued my interest. The concept and now the cast all seem like quality entertainment. See who'll be making an appearance in the sequel and what roles they'll play on the following pages.
Wesley Snipes
Now this is an interesting selection. Wesley Snipes will play the role of General Izzi, ruler of another African country. I don't remember this but according to Shadow and Act, there was a Colonel Izzi in the original film so perhaps these two characters are related.
Kiki Layne
There's the most information about Layne's character. She plays Prince Akeem's (Eddie Murphy) daughter. She's "burdened with feeling like she is the son her father never had." She's described as a "proud and principled daughter of Zamunda" who is "athletic and skilled in the art of self-defense, but she is also measured in her temperament, always seeking a calm, diplomatic solution to conflict."
James Earl Jones
Bless God for his keeping power. He knew we would eventually enter the season of reboot. And no one can do it like James Earl Jones. We needed him to voice Mufasa again in The Lion King (2019) and if Akeem's father is still leaving, we need him to play Joffrey Joffer.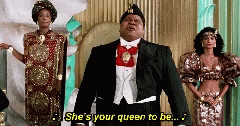 Paul Bates
Yes, even Paul Bates, the actor who so memorably sang Akeem's would-be-bride into the King's court will also appear in the new film. Hopefully he still has a song in his heart.
Jermaine Fowler
In case you hadn't heard the premise of the new film, the idea is that Prince Akeem has a long-lost son he never knew existed. And the son will be played by Fowler. Unlike his sister who grew up a proud Zamundan, Fowler's character, LaVelle is a 30-year-old Queens hustler with a good heart. According to Shadow and Act, LaVelle, who was raised by mother wants a better life for himself. throne.
Rick Ross
I'm going to have to see this movie just so I can know how Rick Ross gets down on screen. I don't care what character he plays, I want to see it.
Arsenio Hall
You can't have Coming to America without Semi's antics. So we're glad that Arsenio Hall agreed to come back on board.
Leslie Jones
Frankly, I would watch Leslie Jones read a phone book. I definitely want to see her opposite Arsenio and Murphy. They could probably create magic together.
Eddie Murphy
When the rumors of a Coming to America sequel first hit the interwebs, there was no mention about whether or not Eddie Murphy would be a part of it. Naturally, that gave all of us pause. I won't lie and claim that Murphy hasn't made some bad movies throughout his career. But the fact that he signed on to participate in this one gives me hope that it won't be half bad.