After all these years, everyone still has love for rap duo Kid 'n Play. So we were delighted to see that the two recently stopped by The Breakfast Club. And as is tradition with their interviews, some juicy facts came to the forefront. Like why Play turned to God after all the success, why their marriages ended and so much more. In honor of Throwback Thursday, check out the most interesting moments.
1. The High-Top Fade Almost Got Kid Sued
We all know Kid's high-top fade was his signature, his trademark. It was such a part of his persona that even when he was ready to get rid of it in 1991 for the movie Class Act, Warner Bros. threatened to sue him. Play wasn't too fond of the idea either but he wanted to support his friend. Kid and Warner Bros ended up reaching a compromise and he wore a high-top for half of the movie and then dreadlocks for the rest.
2. They wanted Will and Jeff from House Party.
Kid 'n Play were not the first choice for House Party. In fact, Warner Brothers, which is the parent company for New Line Cinema, wanted the Fresh Prince and DJ Jazzy Jeff. Kid 'n Play were sure, after the meeting with executives, that they had done so terribly during their audition that there was no way they would be offered the roles. But a few things fell in line for them. One, Warner Bros. just so happened to be suing the rap duo for the sample they featured on "Nightmare on My Street." Needless to say, Will and Jeff were wary. Thankfully, after Kid 'n Play left the offices, fans were outside to greet them and executives realized that a movie that any movie that starred them would be a hit.
3. Kid made $30,000 for the first House Party
While House Party was such a hit, it's wasn't all that lucrative for the duo, initially. Thankfully, later, with all of the sequels, they were able to make up for it.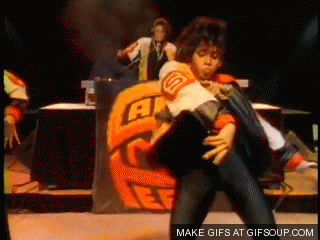 4. Play the designer
Play, Chris Martin, was a multi-talented dude. After his rap and acting career cooled a bit, he went on to design clothing for several artists and cultural figures. He was responsible for Salt 'n Pepa's leather jackets. He designed for Michael Jordan and even provided clothing for the first six of Martin Lawrence's appearances on Def Comedy Jam.
5. Play the menace.
Growing up, Play was a bit of a troublemaker. So much so that he got kicked out of 5 schools before he ended up getting his GED. As a result their respective roles in Class Act, are pretty similar to their personas throughout high school. Play said that he would hang out at Kid's house he would be astounded to know that when he watched Jeopardy he actually knew the answers. He said that if he could harness Kid's smarts with his street cred, he could really go somewhere. And Kid was such a nerd that he thought if Play gave him a bit of his street cred, he might be able to lose his virginity.
6. Play married "Lisa McDowell"
We all know her from Coming to America but Shari Headley was also wife to Play. The two had a child together in their two-year marriage. When asked why it didn't work out, Martin said, "I didn't know who I was. I married her as Play. You do as you think you are as an entertainer."
7. But he turned his life around.
Charlemagne asked Play why he ran to God so quickly. He said he realized that after getting everything he wanted, he still wasn't happy. And he knew he needed something else. Today, when it comes to projects, he says "I'm not going to do it unless Jesus is with you.
8. Kid also got divorced.
Kid's marriage lasted around the two-year mark as well and he got divorced in 2007. Unlike Play, he said his problem was that he waited too long before tying the knot. He married for the first time at 40-years-old and said that by that time, he didn't know how to live with someone else.
9. Kid the music man
While Play went on to fashion, Kid stuck to the music. And is surprisingly, behind some pretty big songs. He did the theme for Bill Maher's show. He contributed vocals for Salt 'n Pepa's "Let's Talk About Sex" and most famously, he created the theme song for "Martin." He said the royalty checks from that have been amazing thanks to syndication; but at the time of creation, it was mainly about making a good song for a friend. And as a fun fact, Kid was also the one who came up with the song title "Forever Sheneneh."
Classic.
You can watch the full Breakfast Club interview in the video below.