All The Things We've Learned From Janet Mock's Breakfast Club Interview

Image via Getty
Activist and author Janet Mock sat down with "The Breakfast Club" crew recently. Now, if you've ever watched one of their interviews, you know how problematic and offensive their questions can be. Thankfully, Janet was there with the intention to educate and she answered most of them very graciously. Check out the highlights on the following pages.
Her childhood
Janet mentioned that in Hawaii, while there were quite a few trans women around, there were not a lot of trans women of color. She said, specifically, "It's hard to be something that you can't see."
She said she learned about her identity and the language for it, through her friend Monica who came up to her and said, "I see you, you need to stop pretending."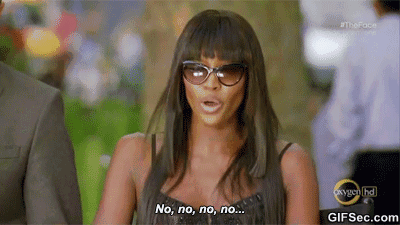 Why is "tranny" a bad word?
It's one that's even contentious within the community. It's kind of like, say n*gga. There are some trans women who use it and are completely fine. There's something when someone outside of that experience uses that terminology, it comes off as more of an epithet than it is about a bringing in.
Dating and telling a man about her identity
Once it became serious and I knew that was going to go somewhere, I was like I got to tell him.
His reaction, he was confused. He didn't really ask what are you saying because I was super vague about it. I was like 'I can't have kids. And I can't have kids because I had surgery when I was 18-years-old and I had a surgery at 18-years-old because I was born a boy. And he was processing, processing.
It was like a month in, we had had sex, we had been shacking up.
He had some questions, I answered them. He asked me why I didn't feel safe enough to tell him. I said I just didn't feel safe enough to tell you. I thought it was a summer fling, you'd move away and that would be it. I was also protective of my story.
Now
With my husband now, I told him within three weeks, before we even had sex. I think that if you're in any kind of intimate relationship, a part of being in a relationship is steadily sharing and shedding your layers and sharing that with another person. So I think anyone that's dating and hoping to build something, you have to be honest about who you are and where you've been.
Did the original guy break up with you?
We dated for like five years. He was my first love, my first partner.
Why did you all break up?
It just…we met when I was 19. I had grown and he had grown and we wanted different things.
What made you want to become a trans woman instead of a gay male?
It was more about who I felt I was versus who I felt I was attracted to. And so what happens often times is there's a conflation between sexual orientation, meaning who you go to bed with and gender identity, which is who you go to bed as. So for me, it wasn't about feeling I was attracted to men or being attracted to masculinity, it was about my own embodiment about how I wanted to show up, not just in bed but also in the world.
It was before I even had any consciousness of sexuality. I wasn't thinking about being attracted to boys.
Image via Bigstock
The Black community
The first thing I learned about myself when I came into the world as my parents' child was that I was poor and Black in America. The trans-ness stuff came after. And so I think that's what's really difficult for I know a lot of girls who listen to this show and who live for this show and live for Hip Hop and the culture and all that stuff. They're a part of these communities but then they're separated because of the trans stuff. But at the end of the day, they're still Black people living in America. So there's some healing we have to do as a community, specifically folk like you who have access, who have a platform. Bring folk in and have these conversations and talk about language and then be bold enough and courageous enough to have difficult conversations about difference. And speaking across difference is something that even Black folk have to do amongst each other in order to evolve, in order to grow and in order to ensure that we don't have a sixteenth Black trans woman being killed in another year.
Image via WENN
On Chris Rock and keeping your daughter off the pole and Janet Mock working as a stripper
Where we see it as a failing is that we look at women's lives as a reflection of their fathers. We then strip young women of choice, respecting their agency to say that this is my body and I'm engaging in this space with my body to take care of myself specifically as a low income girl of color who doesn't have access. Your daughters [points to Charlamagne and DJ Envy] will likely be fine. But girls from the hood who don't have fathers, girls from the hood whose mothers are single mothers, why should we be shaming them when they're using the one resource they have, their body, to take care of themselves in the world.
So for me, it's about releasing ourselves from respectability politics.
It's a part of the hustle. It's a way to make a way when there's no other way made for you.
Caitlyn Jenner
I think that Black and Latina girls would say that that's not our face. So there's also divisions within our own communities. I do think that because the Kardashians are a global thing and because when she was presenting as Bruce as an Olympian, she was an American hero. She spoke across generations and lines. Her visibility pushed people, specifically media gatekeepers to talk about this issue. They could not ignore it anymore. So in that sense, I think that she has done a phenomenal job in enabling us to be seen and heard.
Now her politics are a whole other thing. But that's Caitlyn Jenner the person. So the person is problematic as f*ck and the person has to be checked. You can't have trans women of color and low income trans folk on your show and talking about their struggles without linking it to the sociopolitical landscape of conservatives who don't want to give social safety nets and resources to poor people, to queer and trans people, to folk of color. So for me, there seems to be a disconnect between how she sees herself as a trans person and how she has also lived her life as a very privileged White person.
Bathrooms
Where this is happening, it's happening in schools. Kids are not sexually abusing other kids in school. That's not happening. What they're doing is using images of trans folks who are not able to pass and saying they're going to come in and get your daughters. And that's really dangerous because what it does is it separates trans youth from every other youth. Young people get it. When I was younger, my peers were not checking for me in the restroom. It was vice principals, it was adults who didn't want me in that space because they thought it was weird that my classmates wanted me to be in that space with them. It's about access to public spaces. Every social justice issue has gone to the bathrooms in some sense. You think about Black folks in the sixties, you think about women in the workplace. You think about disabled folk. It has always gone back to the bathrooms because it's one of those universal experiences that we all have to have access to. And eventually we'll work this out to the point that we'll have single stall restrooms for folk to be able to have access to that are not based on genitals.
Why is this an issue now?
It's being created into an issue because marriage for the LGBT— "mainstream agenda'—is that marriage passed and it's the law of the land and they needed to create another issue that's a nonissue that people have been working on and living through forever. So what it does is it distracts from the actual issues that are going on, like poverty and homelessness.
Does it ever get frustrating having to explain?
In my everyday life, that's how I feel. But the work that I'm committed to doing is having these difficult conversations.
Check out the full, very educational interview–complete with some cringe-worthy questions, in the video below.