So Y'all Think Lawrence Will Forgive Issa?
I know I can't be the only one still reflecting on last night's episode of Insecure like…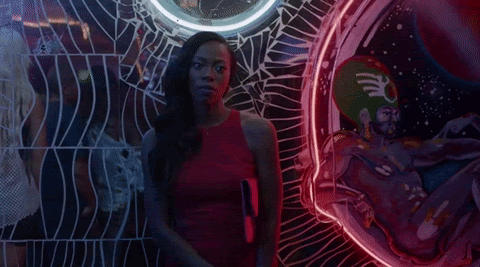 In 31 minutes Issa managed to ruin her relationship with her best friend, her boyfriend, and her sidepiece — not that she needed to nurture that last situation but you know what I'm saying. Last night's episode was real as f-ck, just like the title said, and hours later I'm still sitting here thinking, how we gone make this right, girl?
As messed up as it was for Issa to question whether Molly was mad at her because she can actually keep a man, I have no doubt the BFFs will make up. Though most of us try not to hit our girl's as below the belt as these two did last night, sometimes it happens when we project our own ish onto someone else or when we try to tell our friends about themselves and don't use as much tact as we should. But sooner or later both parties realize they said some things that shouldn't have been said, it's all love, and they get back to talking about and worrying about men, which for Issa is exactly where her focus should be right now because ol' girl ruined not one, but two relationships last night.
Now I don't fault Issa for coming at Daniel a little sideways — after all he's the one who said he wasn't looking for anything serious so it shouldn't be an issue that Issa isn't returning his calls — however calling him an "itch I needed to scratch" was one of those things she can likely never take back. And that means if Lawrence decides not to take her back after cheating, she has no other chocolate peen to fall back on. Not that that should be her foremost concern because she also lost Daniel's friendship in the process of sh-tting all over him because she was worried he was going to expose their dirty little secret, i.e. she was insecure, and then she lost her boyfriend anyway, but I'm just saying.
Now as low as the odds are that Lawrence will forgive Issa for cheating on him — because when do men ever do that — I'm going to argue that he should. I don't care if Lawrence was about to propose or in the process of getting his stuff together, it didn't happen until 20 minutes before he found out Issa cheated on him and considering she stuck around for his months of living bummy as f-ck, I think he can forgive her for being unfaithful as f-ck. Once he gets over the fact that another man was inside his girlfriend, that other man came to her work event to confront her, he was just about to propose to her days before, he took a job he didn't really want to take to make her happy and sustain their relationship, and he turned down a proposition from the thirsty bank teller girl. So yeah it might take long as f-ck for these two to bounce back — like a whole season (thankfully we already know the show has been renewed for at least one more) — but it needs to happen.
If you're not of the school of thought that cheating is the absolute worst thing you can do to someone you love then you can see how Lawrence and Issa both dropped the ball in their relationship and both should be able to forgive one another. Issa didn't bail on Lawrence when he contributed absolutely nothing to their relationship but dirty laundry and an imprint in the couch (though she almost did) and he shouldn't bail on her just because she gave in to temptation when they were going through said rough patch (though it looks like he will). Plus it would also be nice for once to see a man not respond in the stereotypical zero tolerance cheating policy way and take his woman back after stepping out. Lord knows we've seen enough women do it on TV and in real life. But the odds being what they are, a part of me can't help but feel like scratching that itch might leave Issa single as f-ck.
What do you think? Will Lawrence forgive Issa?
MadameNoire Radio
Our staff has picked their favorite stations, take a listen...