Shady Things Men Do Instead Of Admitting They're Not Interested
October 17, 2016

View Comments

Comments
In a perfect world, men would always tell us how they feel. If they wanted to date us they would say, "I like you." If they weren't feeling our advances they would say, "I don't like you." And the world would turn as usual.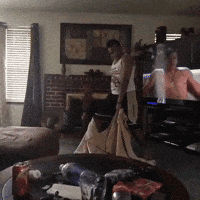 But that's not what happens. Sure, men tend to do a good job of letting us know they want to be more than friends, but when they don't — let the games begin! Make that the shenanigans! Here are all the shady things men do when they're not interested instead of telling us the truth. If you see any signs of the behavior listed below, slowly back away from the man in question and set your eyes on a new beau.
The Slow Fadeout
This one is worse than never calling at all because it keeps you confused when they take longer and longer to return your calls. Why drag something out instead of manning up and telling the truth?
Schedule Weekday Dates
Sometimes for men, "not interested" means keeping their options open. Specifically on the weekends when they're meeting other women while scheduling your dates when there's work in the morning.
Or Late Night Ones
When "not interested" means "only interested in one thing" and suddenly "dating" is limited to late-night activity and we're expected to take the hint.
Let You Do All The Work
We may never understand why some men will hang when you schedule the date, but rarely make the effort to dial you up. But we do know that it's a sign that his interest level is low.
Flirt With Other Women On A Date
Wouldn't it be easier to just say you're not that into us? Now everybody has to get cussed out.
Put You In the Friend Zone
Men get upset when it happens to them, but they do it to us too. Suddenly they're calling to talk about women problems rather than taking you on dates.
Talk About Other Women They're Interested In…
This one is just insulting.
Claim They Don't Want Anything Serious
All of a sudden. And then a month later you find out they have a girlfriend.
 Use The "I've Just Been Busy" Excuse
There isn't enough work in the world to keep a man who really wants to be with a woman from at least sending a text within a week's time. That's the bare minimum and if he isn't doing that he's just not that into you.
 Avoid Sex
He's never implied he wants to wait to get intimate, but suddenly anytime you give him the green light he has to get up early for work or is too tired for sex.
Trending on MadameNoire
View Comments