For The Fellas: What To Do For Your Lady On Wife Appreciation Day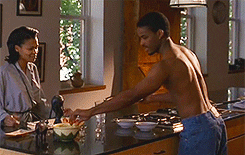 Attention Fellas! You never would have guessed it, but Wife Appreciation Day (yes, it's apparently a real holiday) is right around the corner (September 18). While your lady love probably has no idea that it's a thing, and you could probably skate by without having to acknowledge it at all, why not surprise her with something nice?To aid you on your quest for the perfect Wife Appreciation Day gift, we've compiled a list of some of the best ways to show your appreciation on this day.
Flowers and Dinner
OK, so it might not be the most inspired, most unique choice, but it's one that is pretty difficult to botch. So long as you don't hit the nearest supermarket for a hodgepodge batch of flowers and pick a fairly decent restaurant this is a great way to celebrate Wife Appreciation Day. You can even get a little raunchy and role play the way your first date went down back in the day.
Make a Love Book
If you haven't heard of Love Book before, allow us to loop you into one of he most adorable present options we've ever found. Love Book allows you to create a short illustrated book describing your personal love story. Customers can either create their own pages using art functions within the site or choose from more than 1100 pre-illustrated slides that can be customized to look like you and your loved one.
Watch Her Favorite Movie
We don't care what her favorite movie is, but on Wife Appreciation Day you're going to sit there and watch it. No smart comments, no huffing and puffing. You're going to still there as she tears up during the "The Notebook" and you're going to like it … or at least tolerate it.
A Little Sparkle
So you knew we were going to slide in a little sparkly something on this list of suggestions. We completely understand that sometimes it isn't easy to pony up the cash for a new set of diamond earrings, but if you happen to have extra change to spare, why not buy her jewelry? Trust us, she'll be bowled over that she didn't have to wait until her birthday, anniversary, Christmas or Valentine's Day for that new necklace.
A Comedy Show
Looking to have a little fun on Wife Appreciation Day? We definitely suggest scouting out some local comedy clubs to find a great show to enjoy together. Bonus points if you can catch a show like "Date Me" at Second City or another relationship/love-themed act.
A Weekend Getaway
A bit more involved than some of our other suggestions, a weekend getaway could be a great way to spend some time with the woman you love. Whether flying to wine country or just taking a scenic drive up the coast, a romantic jaunt to another city or town is a great way to spend some time together and relax.
A Beautiful Framed Photo
A simple token of affection, a beautiful framed photo might be all that's needed to show your wife just how amazing she is. Whether it's a photo from when you first met or a candid shot of his proposal, this sentimental option can really tug at the heartstrings and allow you and the Mrs. to reminiscence on where it all began.
Do The Little Things
Whether it's joining her at her favorite fitness class, making her breakfast in bed or just helping with dinner, take Wife Appreciation Day as the perfect opportunity to show how much you value and love her by joining in something you normally aren't a part of. Trust us, she'll really be touched by the effort you're putting in.
Sunset Sail
Looking to infuse a little adventure into your celebratory outing? Might we suggest a beautiful sunset sail? We love this unique option for its gorgeous views and romantic vibe. There are also a number of themed sunset sails that can include wine and food tastings or tours of little-known areas of your favorite city or town. Obviously keep an eye toward the weather forecast to ensure a smooth, pleasant journey, but if Mother Nature cooperates it is a perfect way to show the woman in your life how much you love her.
Massage or Foot Rub
An oldie, but a goodie. Your lady works hard all day, so why not on Wife Appreciation Day, treat her to a massage or foot rub? It's a small sign of affection that she'll appreciate tremendously.