Ayesha Curry And Chrissy Tiegen Just Designed Spatulas For Williams-Sonoma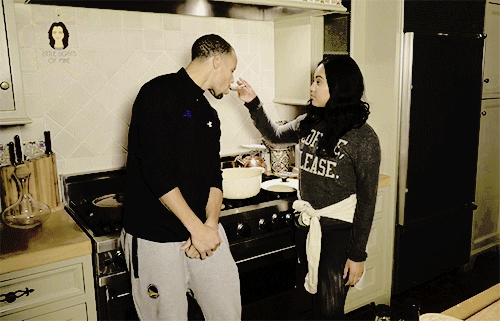 According to the internet, there's nothing Ayesha Curry can't do. She's a proud mother, supportive spouse, sports fan, and cook — and now the wife of Golden State Warriors' Steph Curry can add designer to her list.
Curry is one of a group of celebs to design limited-edition Williams-Sonoma spatulas to benefit No Kid Hungry, an organization working to end childhood hunger in the United States. Curry, Chrissy Tiegen, Danica Patrick, Jimmy Kimmel, Giada Di Laurentiis, Ina Garten, Trisha Yearwood, and Michael Voltaggio all lent a hand to come up with their very own unique spatula designs along with the American Girl Doll. And as part of the collaboration, Williams-Sonoma will donate 30% of the retail price from each spatula purchased to No Kid Hungry plus an additional $5,000 on behalf of the designer whose spatula sells out first.
Explaining her cute bacon and eggs spatula design, Tiegen said: "My spatula design is symbolic for the most important meal of the day: Breakfast! Everybody deserves a bright start to their day so let's support No Kid Hungry and work together to end childhood hunger in America."
Curry, on the other hand, went with a bright yellow seasonal theme, sharing: "Balanced eating is so important to my family. I started working with No Kid Hungry because making sure that families and children have access to nutritious and affordable food is a cause I care deeply about. With my Williams-Sonoma spatulas, it's Thyme to Cook, and it's thyme to make a change!"
Check out the full collection below, which retails for $12.95 each. Which spatula do you have your eye on?