She Tried It! I Did Not Only Traditional Zumba, But Samba, The Charleston And Twerking In One Class At Z Club NY
It all started with a bra.
After reviewing the Sportee bra recently, I was sent a colorful sports bra from the PR person at a one Z Club NY. She said that she had read my review and hoped that the bra she was sending my way would aid in my fitness efforts — and that I could use it in a Zumba class offered by their studio.
And just like that, I was signed up for a Tuesday night Zumba class with renowned instructors Benjamin and Rodrigo Angello Richard. The men, from France and Brazil, were doing a residency of sorts at Z Club NY, and when I was introduced to them upon entering one of the studio's locations on 57th street and 2nd ave (inside of Complete & Body Spa), I could feel their energy immediately. And yet, it was nothing compared to the energy exuded in their hour-long class.
I was told before the class started that "We're going to take you all over the world," and they weren't kidding. While we did do traditional Zumba for the most part (like salsa, squatting and a lot of pumping), I was pretty impressed with the variety of dance styles they were also able to integrate. One minute we were dancing to a samba remix of Beyoncé's "Single Ladies," which is my new favorite style of dance after taking a few Samba classes since summer started. The next minute we were booty popping — right leg, left leg, and then hands on your knees, hands on your knees! We also managed to pull out the Charleston, yes, the dance made in Carolina, but to a hip-hop beat. And we even did some Big Daddy Kane-esque moves across the dance floor that would make Andre 3000 and Big Boi proud: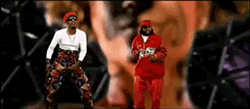 And throughout all this moving and shaking, sweat literally raining on the floor as we stepped left and right, Benjamin and Rodrigo kept a wide smile on their faces. It was clear that they didn't just do Zumba, they live for it. And that enthusiasm rubbed off on the sold-out class, which included women and men, young and pretty old, who kept dancing even when it was clear that they needed a water break. I tell you, there is no better sight than watching a man in his 60s drop it like it's hot without a care in the world.
I don't know what the other Zumba classes entail in terms of the moves the instructors (and their are a wide variety of them) do, but based on the reviews online, people love the offerings. And I had the chance to meet the owner Edmee, who was warm, full of smiles and had hugs to give everyone. She invited me back to try out some other Zumba classes (including water zumba — amazing, right?) and I definitely plan to show up. Because while I love a good run, swinging a kettlebell during a strength training or CrossFit session and kicking an invisible ass in kickboxing, there's nothing like working up a sweat while dancing to the beat of your own drum.