Viola, Taraji, Tracee, Audra, Anthony, Idris, Cuba, Kerry, And More Land Emmy Nominations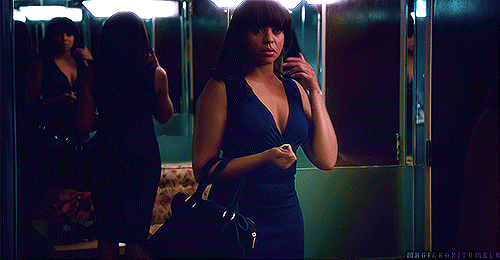 (function(d, s, id) {
if (d.getElementById(id)) return;
var js = d.createElement(s); js.id = id;
js.src = '//cdn4.wibbitz.com/static.js';
d.getElementsByTagName('body')[0].appendChild(js);
}(document, 'script', 'wibbitz-static-embed'));
The 2016 Emmy Nomination list is lit! And by lit we mean diverse — and by diverse we mean Black. We know Hollywood still has a pretty big race issue, but there's a reason hashtags like #OscarsSoWhite exist and #EmmysSoWhite don't.
This year, a ton of our shining stars of color from some of our favorite television shows and movies have a chance of taking home an Emmy at the 68th annual award show. And at the top of our list are Viola Davis, Taraji P. Henson, Tracee Ellis Ross, Audra McDonald, Cuba Gooding Jr., Kerry Washington (for Confirmation), Idris Elba, and Anthony Anderson, who lost his mind when his name was read live this morning.
Check out the full list of nominees below and tell us who you're rooting for and if you're surprised by who was left off of the list — like Orange is the New Black.
Lead actor in a drama
Kyle Chandler, "Bloodline"
Rami Malek, "Mr. Robot"
Bob Odenkirk, "Better Call Saul"
Matthew Rhys, "The Americans"
Liev Schreiber, "Ray Donovan"
Kevin Spacey, "House of Cards"
Lead actress in a limited series
Kirsten Dunst, "Fargo"
Felicity Huffman, "American Crime"
Audra McDonald, "Lady Day at Emerson's Bar & Grille"
Sarah Paulson, "The People v. O.J. Simpson"
Lili Taylor, "American Crime"Kerry Washington, "Conformation"
Lead actress in a drama
Claire Danes, "Homeland"
Viola Davis, "How to Get Away With Murder"
Taraji P. Henson, "Empire"
Tatiana Maslany, "Orphan Black"
Keri Russell, "The Americans"
Robin Wright, "House of Cards"
Lead actor in a limited series
Bryan Cranston, "All the Way"
Benedict Cumberbatch, "Sherlock: The Abominable Bride"
Idris Elba, "Luther"
Cuba Gooding Jr., "The People vs. O.J. Simpson"
Tom Hiddleston, "The Night Manager"
Courtney B. Vance, "The People vs. O.J. Simpson"
Lead actor in a comedy
Anthony Anderson, "black-ish"
Aziz Ansari, "Master of None"
Will Forte, "Last man on Earth
William H. Macy, "Shameless"Will Forte, "Last Man on Earth"
Thomas Middleditch, "Silicon Valley"
Jeffrey Tambor, Transparent
Comedy actress
Julia Louis-Dreyfus, "Veep"
Ellie Kemper, "The Unbreakable Kimmy Schmidt"
Tracee Ellis Ross, "black-ish"
Laurie Metcalf, "Getting On"
Amy Schumer, "Inside Amy Schumer"
Lily Tomlin – "Grace and Frankie"
Comedy series
"black-ish"
"Master of None"
"Modern Family"
"Silicon Valley"
"Transparent"
"Unbreakable Kimmy Schmidt"
"Veep"
Lead actress in a drama
Claire Danes, "Homeland"
Viola Davis, "How to Get Away With Murder"
Taraji P. Henson, "Empire"
Tatiana Maslany, "Orphan Black"
Keri Russell, "The Americans"
Robin Wright, "House of Cards"
Lead actor in a limited series
Bryan Cranston, "All the Way"
Benedict Cumberbatch, "Sherlock: The Abominable Bride"
Idris Elba, "Luther"
Cuba Gooding Jr., "The People vs. O.J. Simpson"
Tom Hiddleston, "The Night Manager"
Courtney B. Vance, "The People vs. O.J. Simpson"
Lead actor in a comedy
Anthony Anderson, "black-ish"
Aziz Ansari, "Master of None"
Will Forte, "Last man on Earth
William H. Macy, "Shameless"Will Forte, "Last Man on Earth"
Thomas Middleditch, "Silicon Valley"
Jeffrey Tambor, Transparent
Comedy actress
Julia Louis-Dreyfus, "Veep"
Ellie Kemper, "The Unbreakable Kimmy Schmidt"
Tracee Ellis Ross, "black-ish"
Laurie Metcalf, "Getting On"
Amy Schumer, "Inside Amy Schumer"
Lily Tomlin – "Grace and Frankie"
Comedy series
"black-ish"
"Master of None"
"Modern Family"
"Silicon Valley"
"Transparent"
"Unbreakable Kimmy Schmidt"
"Veep"
Drama series
"The Americans"
"Better Call Saul"
"Downton Abbey"
"Game of Thrones"
"Homeland"
"House of Cards"
"Mr. Robot"
Outstanding Limited Series
"American Crime"
"Fargo"
"The Night Manager"
"The People v. O.J. Simpson: American Crime Story"
"Roots"
TV Movie
"All the Way"
"Confirmation"
"Luther"
"Sherlock: The Abominable Bride"
"A Very Murray Christmas"
Outstanding Supporting Actor In A Comedy Series
Louie Anderson, "Baskets"
Andre Braugher, "Brooklyn Nine-Nine"
Keegan-Michael Key, "Key & Peele"
Ty Burrell, "Modern Family"
Tituss Burgess, "Unbreakable Kimmy Schmidt"
Tony Hale, "Veep"Matt Walsh, "Veep"
Outstanding Supporting Actor In A Drama Series
Jonathan Banks, "Better Call Saul"
Peter Dinklage, "Game of Thrones"
Ben Mendelsohn, "Bloodline"
Christian Slater, "Mr. Robot"
Kit Harington, "Game Of Thrones"
Michael Kelly, "House Of Cards"
Jon Voight, "Ray Donovan"
Outstanding Supporting Actor In A Limited Series Or Movie
Jesse Plemons, "Fargo"
Bokeem Woodbine, "Fargo"
Hugh Laurie, "The Night Manager"
Sterling K. Brown, "The People v. O.J. Simpson: American Crime Story"
David Schwimmer, "The People v. O.J. Simpson: American Crime Story"
John Travolta, "The People v. O.J. Simpson: American Crime Story"
Outstanding Supporting Actress In A Comedy Series
Niecy Nash, "Getting On"
Allison Janney, "Mom"
Kate McKinnon , "Saturday Night Live"
Judith Light, "Transparent "
Gaby Hoffmann, "Transparent"
Anna Chlumsky, "Veep"
Outstanding Supporting Actress In A Drama Series
Maura Tierney, "The Affair"
Maggie Smith, "Downton Abbey"
Lena Headey, "Game Of Thrones"
Emilia Clarke, "Game Of Thrones"
Maisie Williams, "Game Of Thrones"
Constance Zimmer, "UnREAL"
Outstanding Supporting Actress In A Limited Series Or Movie
Melissa Leo, "All The Way"
Regina King, "American Crime"
Sarah Paulson, "American Horror Story: Hotel"
Kathy Bates, "American Horror Story: Hotel"
Jean Smart, "Fargo"
Olivia Colman, "The Night Manager"
Outstanding Guest Actor In A Comedy Series
Bob Newhart, "The Big Bang Theory"
Tracy Morgan, "Saturday Night Live"
Larry David, "Saturday Night Live"
Bradley Whitford, "Transparent"
Martin Mull, "Veep"
Peter MacNicol, "Veep"