She's Been Drankin'…Watermelon: Beyoncé Partners With WTRMLN WTR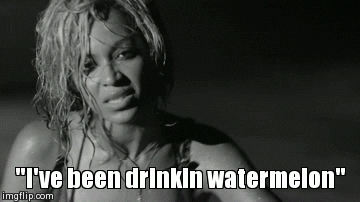 In case you forgot, Beyoncé is more than artist, she's a businesswoman. According to Billboard, the icon invested in WTRMLN WTR, a three-year-old company specializing in cold-pressed watermelon-based sports drinks.
Jody Levy, the company's co-founder told Bloomberg that the investment makes Beyoncé a meaningful shareholder.
According to Levy, Beyoncé was drawn to the company because they make their water with the 800 million pounds of unused watermelons. According to Levy, in an interview with Crains Detroit Business, these watermelons, "come from growers all over the United States. They are unused because many watermelons are imperfect — scarring from the sun, bruised, not perfectly shaped — and therefore, people don't want to buy them.
In addition to the watermelons the company only adds a drop of organic lemon juice. And that's it.
In a released statement, Beyoncé said,
"I invested in WTRMLN WTR because it's the future of clean, natural hydration; as partners, we share a simple mission to deliver accessible wellness to the world. This is more than an investment in a brand, it's an investment in female leaders, fitness, American farmers and the health of people and our planet."
Levy said that while the news of the partnership is just being released, the relationship has been unofficially in the works for some time now.
Coincidentally, Levy said the very same day Beyoncé dropped her surprise album Beyoncé, featuring "Drunk in Love," where the singer says "I been drankin'…watermelon," WTRMLN signed a deal with Whole Foods.
Kismet.
Shortly after that, the company sent Beyoncé a sample of the drink and the rest is history.
The drink was then sold at her Ivy Park pop up stores, and now in the venues where she is performing during her Formation World Tour.