Switch It Up: 5 Intense (And Much Better) Ways To Do A Plank
Planks suck. I think we can all agree that standing on your elbows or hands in an upright position for any amount of time can really get that vein popping in your head and make you feel like you're short of breath. However…if you're going to do them to get your core right and tight, you should maximize your efforts and do more than just the classic "stay put" plank for 30 seconds or so. Switch it up!
The following planks will do quite a number on your core and make that six-pack pop. And if you're just starting to work on your core, have these exercises ready after doing 30 minutes of cardio. Repetition is everything, so do three sets of each plank exercise for at least 30 seconds (but a minute will really have you feeling the burn). And don't think you have to be teeny, tiny to have a strong core and abs poking through. Enough of these planks will definitely have you flexing in your bedroom mirror.
Plank Jacks
It's like jumping jacks, but on the ground. These are great for your core and your lower back!
Rest on your forearms
Have your body form a straight line (keep that butt down!)
Contract your abs (a.k.a., tighten them)
Jump the feet out to the sides at the same time
Return the feet back to your starting position–that's one full rep
Spiderman Planks
This one is a bit more complicated and will work that core, the glutes and, of course, your arms.
Start on your hands in a push-up position plank
Keep your butt down
Contract your abs
Do a push-up and bring your right knee towards your right elbow–that's one full rep
Return to the plank position and then alternate sides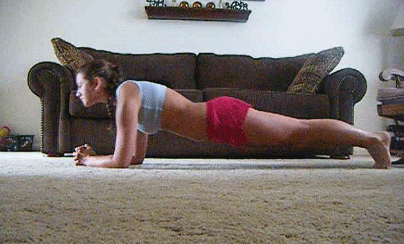 Plank Rocks
Previous options a little too hard for you? The old-school plank rock is taxing without exerting as much energy.
Rest on your forearms
Dig your toes and elbows in the ground and contract your abs
Pull your shoulders forward
Rock your shoulders back, creating tension
Try to keep the front of your feet from coming down flat (we would recommend doing this in shoes…)
Mountain Climbers
Yes, old-school mountain climbers your gym teacher always used to make you do are a form of a plank. A friend who is an instructor who specializes in core workouts said it was one of the best workouts one could do to get those abs poppin'.
Start on your hands in push-up position plank
Keep your arched back and butt down
Raise your right knee to your chest and return to the starting position
Raise your left knee to your chest and return to the starting position
Alternate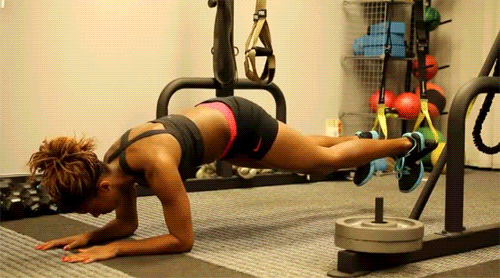 TRX Plank
And if the previously mentioned core workouts are too boring, get some TRX bands, hook them up at the gym, and suspend your legs in the air for quite the complicated plank. You can leave your legs straight (keep that butt down, unlike the woman above) and hold a plank, or you can pull your legs in and do some atomic push-ups. The advanced move will work your abs, shoulders, chest and arms:
Slip your feet into the suspension cradles
Keep your feet pointed down to the floor
Raise up to a push-up position plank
Lower your body down into a push-up
As you come up, bring your knees in toward your elbows
Hold for a second or two, and then release your legs back to the starting position
Do you have a favorite (make that preferred) plank workout? Share below!