I don't know about y'all; but if you ask me and mines, any mention of the name J. Holiday is met with "What song did he sing, again?" Every human being has worth and value, but when it comes to the music industry J. Holiday's is relatively low. There's no shame in that, he just hasn't done enough yet. And while that might signify to some of us that we need to put in more work, J. Holiday has decided to use his time to disparage other artists, women specifically. The "Bed" singer posted this video recently on his Instagram page. Listen carefully to see if you can decipher. Some of the language is quite strong. So if you're at work, headphones.
For those who can't listen right now, here's a transcript.
"So apparently, the Black man is still losing to the women. I get it. No disrespect. I was raised by a woman. I have two older sisters. I have absolute, all respect for Black women. But with that being said, understand this, man. Black men, African American men, men from the hood, we go through everything to make sure that who we care about are taken care of. We don't swing our dicks around. We don't do all this bullsh*t to be seen. I could be that n*gga over here f*cking n*ggas up. I know a whole lot of b*tch a** n*ggas that sing that I could call they a** the f*ck out. But I don't. And understand this, I got daughters, man.

Cardi, Beyoncé, SZA all y'all muthaf*ckas stop using that f*cking pain to make it ok to say some f*ck sh*t on your record and get nominated for a Grammy for going through some bullsh*t cuz so have I as a Black muthaf*cking man."
If you listened and read this and were confused as I was, J. Holiday offered this bit of information in the caption of the post he's since deleted.
"Yes salty I lost to MJB I'm over it! #painwins not talent! #dontsupportjunkiemusic #theweekendchick #watermelonswallowing #foreignpussy what are U doing to help? Bc my daughters love ya'll but are not allowed to listen. That's a problem."
 Whew. There's so much here.
I read that Instagram caption and thought, "Did J. Holiday release some new music this year to compete with Mary J. Blige's 
Strength of A Woman
? Is he upset his 2017 effort wasn't recognized this year at the Grammys? Nah.
This one is mad about an L he took in 2009
. Almost, a decade ago.
I love that so many men preface their misogynistic and regressive thoughts with "I have a daughter." That's a telltale sign that bell hooks is going to roll her eyes once he finishes his next sentence.
There was the "we don't swing our dicks around" line.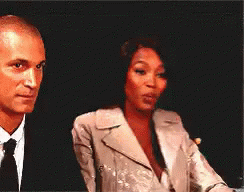 We all know that more than a few of y'all actually do. A lot of that "pain" that these women are singing about has quite a bit to do with those swinging dicks. Stop it.
Then, there's just the audacity that he, an artist, would think he has the right or the reason to tell another artist what she should be able to sing about. Bruh, just stop. Do your work. I really don't need to go any further. The internet handled the rest of it. Check out the response on the following pages.