All Articles Tagged "period"
Christina Aguilera is really one of the more talented, powerhouse voices we have in the industry today. And nowhere was that more evident in the rendition of "At Last" that she performed at Etta James' funeral service this past weekend. Aguilera, who performed James' "Sunday Kind of Love" at her first Star Search competition, said that Etta was one of her idols. And she showed her respect and admiration through the performance.
Check out the video below.
Her talent is virtually unmatched. Yet, there always seems to be something that prevents Christina from letting her star shine the way it should. Whether it's a raunchy video, a failed marriage, public intoxication or ill fitting clothing there is always something that prevents us from focusing on her talent alone.  While her tribute to Etta was audibly flawless, visually it was gross at worse and unfortunate at best.
Towards the end of her performance there were streaks of a mystery liquid running down Aguilera's legs. Some are saying it was blood from her period, while others are saying it was fake tanning spray. Check out the pictures and let us know what you think it is.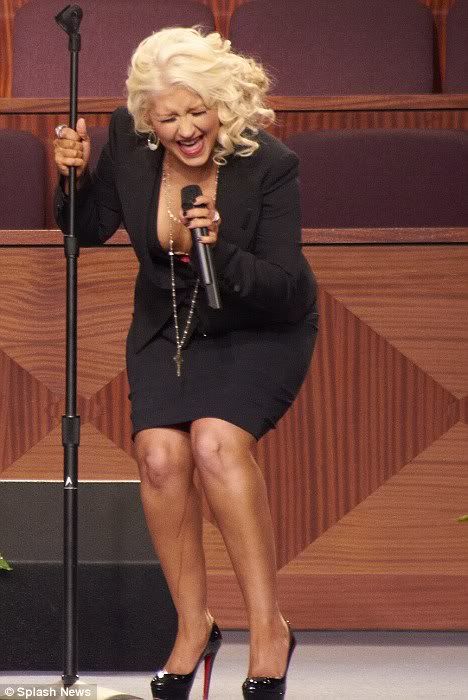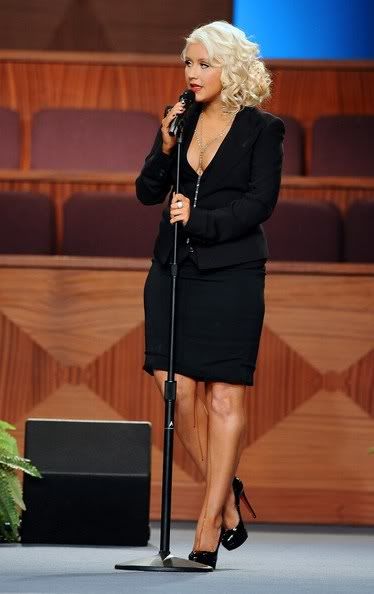 We're sincerely hoping it was the spray.
More on Madame Noire!
Not too long ago, we did a post on ways that women could deal with unexpected visits from their period. The responses we obtained through the site, our Facebook and Twitter pages showed that visits from Aunt Flo are even bigger burdens for women than we thought. Some folks who commented said cramps get so bad that they have to take the day off of work, and others spoke on horrific leaks in public on public transportation and more. But not only is it a big issue for many women of what to do about their period when they're out hitting the streets, but it also can affect the possibility of getting a good night's rest. And it's not that you CAN'T fall asleep, but how do you fall asleep without feeling like you're wearing a pair of Depends, going through labor and without making a mess on yourself? Before you have a "Code Red" in your bed, here are a few tips that might help:
There's nothing like trying to start your week off on a positive note, freshly washed clothes on and newly picked out 'fro just 'a shinin.' Yeah, it sure is nice, that is, until you get that weird feeling when you stand up after sitting forever on the train and after walking for nearly 10 minutes to get to work, find out that yep, your period has put a dent in the beginning of your work week. Not only did it come out of the blue, but it's now destroyed a favorite pair of your drawers, and made contact with jeans that took forever to dry in the first place. Periods suck. I KNOW you feel me, but when they come you don't have to call it a wrap on the rest of your week. Avoid the messes and exaggerated cramps with the following tips. And if you know these tips already, my bad, but it never hurts to get a reminder!
As much as we try to hide it, being a woman isn't as glamorous as we'd like to make people believe. We're human and sometimes that means dealing with life's little nasties. While we often point to men as being dirty there are some common, womanly issues that we'd rather men not know about. Check out the short list and if you're honest with yourself, you might just get a good chuckle out of them.
You never want your man to see:
1…you leaning in the bathroom mirror ferociously plucking your chin, nose, or upper lip hairs.
2…you bent over the bathroom sink washing remnants of the red dragon out of your drawers.
3…all the dry skin that comes off your feet when you finally do get that pedicure.
4…you looking after you wipe.
5…masturbating. (Most guys would get off on this but if you don't intend for him to see you, it's all bad.)
6…peeing on yourself.
7…picking your nose. (You may say you don't but we know you do.)
8…removing your Diana Ross weave to reveal your Amber Rose cut
9…what a yeast infection really looks like. *shivers*
10…you in the tightest of fetal positions receiving a colonoscopy.
Ewwwwwww! What disgusting, potentially embarrassing things would you add to this list?