All Articles Tagged "leggings"
Deja, an 11-year-old in Sunland, California, was sent to the principal's office at her middle school last week over a supposedly "racy" pair of clothing: her pants.
KTLA reports that the middle schooler was called in for discipline over the dark brown leggings she was wearing, which got her dismissed from class on Friday. She returned to school on Tuesday.
Deja's mother, Yolanda Tunstill, says that the incident was related to her daughter's skin color, as she's never been called in for wearing leggings before she wore this dark brown pair. "I felt discriminated against," she said. "I can understand if they said okay, this type of material, this type of clothing [was inappropriate]. But for you to make a remark to state because the pants were brown and to make a remark about my daughter's skin color… That was not right to me." She's planning to take legal action.
Check out more on this story and the school's policy on BlackVoices.com.
More on Madame Noire!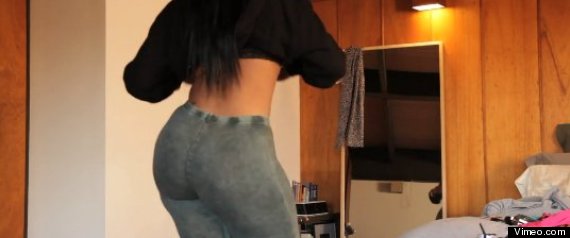 Well, so much for creativity. Drake's latest video for his single "Practice," should hardly be called a video at all. It's basically a single angled shot of a woman in jeggings and a crop top winding and gyrating in front of the mirror. Needless to say the woman, model Kyra Chaos, has an ample backside and that's about all we see throughout the duration.
It's one thing to sell sex but it's another thing to just be lazy.
You can watch the ratchet video at Black Voices.com.
Leather and lace are two of the most intimidating fabrics. Don't bother to look it up…it's a fact. Seriously, what is scarier than resembling a character from the Matrix or channeling your inner gothic teenager this late in the game? We're shuddering just thinking about it.
What if we told you, these are not your only options when it comes to wearing leather and lace? Stop laughing! Allow us to ease your fears with outfit ideas that combine the chic powers of leather and the demure allure of lace. Trust us, when these two fabrics are paired together, all bets are off!
So, take a deep breath and prepare yourself for pops of color, mixed prints, and texture, texture, texture! Okay, proceed…
*Note: Faux leather is used in some many instances for those wondering or worried.
Tags:
belt
,
blouse
,
dress
,
fashion trends 2012
,
lace
,
leather
,
leather and lace
,
leggings
,
loren lee
,
Madame Noire
,
pants
,
shirt
,
skirt
,
t-shirt
,
tunic
Forget everything you've read about how carbs and sugar and saturated fat in the foods we eat are at the root of America's obesity problem. The real reason so many people are overweight is spandex.
Ridiculous right? Some people seem to think so. In NPR's ongoing Obesity in America series, a reporter talked to a few clothing designers about the evolution of clothing over the past few decades and how spandex and stretchy material has become standard in today's clothing and how that gives people more leeway to be overweight.
"Years ago, when we made a suit or a coat, it was built like a battleship. It was like bulletproof," NYC designer George Simonton says. "Today, it's beautiful clothes but high comfort level. Everything has stretch — pants, skirts, dresses, blouses, knit tops."
When consumers were asked their take on the spandex revolution, the opinions differed by size.
One woman said, "I do like spandex because of the way it curves my body. We are not perfect bodies, but sometimes you do want to feel lean and beautiful. Put on spandex. You're good to go." While a size 4 argued, "I think that spandex is made to accommodate people who are overweight. I've seen some terrible sights. They are overweight, and they would put on the tightest spandex things they can find, and they just look absolutely awful."
So are we talking about being overweight or wearing things that are not in your size? There's a big difference there.
Expanding waistlines and a decline in the price of spandex in recent years has allowed for widespread purchasing of clothing and undergarments with these materials, and despite the wonders they can work on smoothing back fat and trimming a roll here or there, even those who wear them feel a bit conflicted. "It's dishonest," one woman said. "It lets you get away with wearing things that you probably shouldn't just because it expands to fit. I think it is deceptive."
What was supposed to be an article exploring America's weight epidemic turned into a discussion of style preference,though, with comments like, "Some of us cringe when we see the things that we see. Some people will be poured into a garment and think they look fabulous, and someone else might look at that person and think that's not very attractive."
I personally would like to know what garments people are finding that they think would make a person feel like they're not overweight if they are. At most, you might be able to squeeze into something one size smaller with a good pair of spanx and a dress with some flow, but for the most part all you're going to get is a little smoothing and a sleeker silloughette. I don't think anyone would use that for justification to not lose weight, especially if we're talking obesity. Perhaps the point they're trying to get at is if people didn't look good in clothes they'd be persuaded to lose weight? Let's just cut out plus-size clothes altogether then, that will fix the problem. Sigh.
What do you think? Does the fact that people can still find clothes in larger sizes keep them overweight?  Are spanx and leggins bad for larger women's waistlines?
Brande Victorian is a blogger and culture writer in New York City. Follower her on Twitter at @be_vic.
More on Madame Noire!
The curvy figure is a symbol of femininity and womanhood, a physique that should be celebrated. What better way to appreciate yourself and your body than by properly adorning it with stylish clothes that accentuate the fullness of your frame? Check out these style tips to make sure you flatter your curvy form.
Tags:
belts
,
bra
,
curvy women
,
Fashion
,
jackets
,
leggings
,
patterns
,
spanx
,
style
,
thick
,
tight clothes
,
wide leg pants
You know what makes you late in the morning? Picking out freaking clothes! Here's some help for the week. Through 'Weekly Wardrobe,' we'll give you some nifty ideas about what colors and pieces to wear for the week, hopefully making your life a whole lot easier…