All Articles Tagged "Law & Order"
For all of those people who were giving the boo boo face side eye to the idea of rocker and eye candy Lenny Kravitz playing Marvin Gaye in an alleged upcoming biopic, this might be good news for you. Kravitz is out, while actor Jesse L. Martin is in.
You've seen Martin before. He was the original Tom Collins in the Broadway play and film Rent, and he played Detective Edward Green on Law & Order for nine years, so he's not a newbie to the big or small screen. Did I mention that he can sing!? According to Deadline, his talent will be shown off in a huge role as he takes over the role of Marvin Gaye in the Julien Temple-directed film, Sexual Healing. Of course, late last year when it was revealed that Kravitz would be taking the role, Gaye's son, Marvin Gaye III objected greatly to the choice and threatened legal action towards the filmmakers. According to Shadow And Act, Gaye III was upset that Kravitz, a childhood friend, would sign on to do such a film, which he felt was shameful, seeing as how the movie is supposed to cover a very hard time in the legend's career. According to Deadline, the movie will focus on Gaye's time in Europe in the early '80s as he battled his drug addictions and eventually was able to bounce back with his musical career as he made the Midnight Love album. Kravitz seems to have backed out of the project, but it's not clear if pressure from Gaye III or critics had anything to do with that.
Despite all that drama, the movie is still in the works according to both sources, even with Marvin Gaye III and the Gaye family trying to find a way to stop the movie from being made. But according to Shadow And Act, EMI, who has all the rights to Gaye's music, gave those working on Temple's project permission to use his music in his film. With all that out of the way, we're not sure how the singer's family could stop the movie from being made at this point, and it sounds like it could be a good one, especially since they've got the very talented Jesse L. Martin in the lead role. This guy doesn't look too far off from Gaye, and he's very talented, so I'm willing to give it a chance whenever, if ever, it is released to see the light of day.
What do you think of the change-up?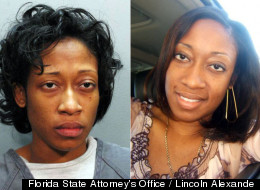 The verdict is in, Marissa Alexander, the 31-year-old Florida woman who fired what her family calls a warning shot at her abusive husband, was sentenced Friday morning to 20 years in prison.
Alexander was convicted of three counts of aggravated assault with a deadly weapon for firing into a wall near her husband and his two young children at their Jacksonville home in 2010. Alexander was standing her ground against a man who had over the course of nearly a year punched and choked her on several different occasions. She believed she was protected that day under the state's Stand Your Ground Law (cue Trayvon Martin case)  which gives people wide discretion in using deadly force to defend themselves. Obviously a judge and a jury disagreed. Read the full story here…
In the light of the Trayvon Martin Case, how do you feel about this verdict? Do you believe there is a double standard with this Florida law?
I know I wasn't the only person who was a huge fan of "New York Undercover" back in the day! Another Thursday night staple thanks to FOX, not only did I get to watch a version of "Law & Order" (minus the "Law" part) that I could relate to, but I got to see up and coming black actors get their start, and some of my favorite musicians from the '90s do their thing (thanks to the lounge "Natalies" that was a staple at the end of every episode). The music was dope, the clothing was dope, and most of all, the show was dope. Make that amazing. It lost its heat around the last few seasons (especially after they got rid of Torres), but anytime I can catch it on Centric, I sit down and relive the '90s. Wondering what some of our favorite characters from the show are doing and looking like now? We've got a few for you. Check it out, and again, be ready to click.
Malik Yoba
Yoba was the very fine, very smooth and very smart Det. J.C. Williams. He was best friends with Torres, father to "G," and a lover of the ladies. He brought the heat and the eye candy on "New York Undercover," and when it was over, Yoba wound up doing a little bit of everything. For instance, he did some singing (and had a lead role) in the David E. Talbert play, "His Woman, His Wife," but he also kept on doing a lot of TV work. He had a guest role on "Arrested Development," showed up on a series called "Bull," had a recurring role as Joan's love interest, Brock, on "Girlfriends," and most recently starred in the Syphy series "Alphas." You could also peep him in movies like Why Did I Get Married (and the sequel), Feel the Noise, and he just finished two new movies: Recalled and Caught on Tape. Yoba once said he has hopes to revive the TV series into a present-day version.
S. Epatha Merkerson spent almost 20 years playing Lt. Anita Van Buren on the sorely missed series "Law & Order." Now the tv, stage and film vet will join the cast of an as yet untitled–supernatural, medical drama on CBS.
Check out more details about the plot of the show and the rest of the cast over on AOL Black Voices.
Did you see Ms. Merkerson in "Lackawanna Blues?" She's a great actress. What's your favorite role of hers?