All Articles Tagged "Instagram"
Many of us just love snapping pictures of food, and of course, putting it on Instagram. And if it doesn't look appetizing, who would bother going to the restaurant that made it? That's why Chili's Grill & Bar is giving its food a good ol' makeover, BloombergBusiness reports. The goal is to make sure the presentation of their dishes is — like the kids say — "on fleek."
"Food is the second most photographed thing, after yourself," Wyman Roberts, chief executive officer of Chili's parent company Brinker International Inc, told BloombergBusiness. "Selfies of people eating food is the sweet spot."
Chili's now places its fries in stainless steel containers, props its burgers higher on the plate, and uses more aesthetically-pleasing buns.
"Customers frequently like to take pictures of their food and share the results, putting pressure on the company to refine its aesthetics," BloombergBusiness added.
According to Business2Community, 23 percent of Instagram users take pictures of their food for a cuisine-focused diary or food photoblog. Another 22 percent document their culinary adventures and 16 percent photograph their main courses on special occasions. On top of this, 32 percent of social media users are on their mobile phones during meals.
These are the types of consumers that Chili's is targeting — a class of people the chain calls "new school." Not necessarily millennials, but "forward thinking" social media enthusiasts who love sharing their dining experience with their friends.
This whole food makeover scheme is all part of Chili's pivot toward the tech-savvy generation. Last year, the food chain accomplished its plan to equip each table with tablets. Customers no longer need to flag down a waiter to get an additional drink or to pay the bill — just use the Ziosk digital devices. Chili's is relying on technology to outdo its competitors.
Chili's currently has its own Instagram, attracting 250,000 followers.
Yesterday, much to our dismay, our source of all things scandalous, The Shade Room, was shut down on Instagram. As prayer groups formed near and far to get the hit entertainment site/social media platform re-launched, many wondered what happened?
In a statement to Buzzfeed News, Instagram noted:
"We wrongly removed an account in this case and worked to fix the error as soon as we learned of it. We apologize for the mistake." The social media company did not further explain what caused their error.
Allegedly, The Shade Room's account was shut down because of The Bad Girls Club alum Natalie Nunn reported the account for publishing a photo of her and another man, who was not her husband. The photo was also submitted via user claim, stating Nunn was committing infidelity.
@BgcCup its not false…there is more pics

— Nique L (@UnadornedBliss) May 11, 2015
It has not been confirmed if these screenshots are legitimate. But Buzzfeed has social media posts of that seem to be from Nunn, celebrating the fact that the page had been shut down.
Generally, the social media entertainment site works because it has created a standard that celebrities are amenable to. The New York Times reports that " The Shade Room works because the stars tacitly approve: It is not uncommon for celebrities themselves to chime in and interact with Angie's (the creator) readers. Angie told me she prohibits her writers from making meanspirited comments about someone's looks, weight or family. In this way, she keeps her hands relatively clean — the commenters might get nasty, but typically the tone of the posts does not. So Angie's relationship to the stars remains symbiotic, not antagonistic."
Were you missing The Shade Room while it was gone?
Ever complain about Instagram don'ts as you scroll down your timeline, only to forget that you have done a few of those same things? These Instagram trends may be annoying, but we're all guilty of them.
Everyone likes to show their #instalove, and it's hard to get cuter than these celebrity couples. Get ready to start your week with an overdose of Instagram love.
#PassengerShaming is the traveling industry's newest trend. And these unlucky passengers found out exactly what you shouldn't do on a flight the hard way. Are you guilty of doing these things?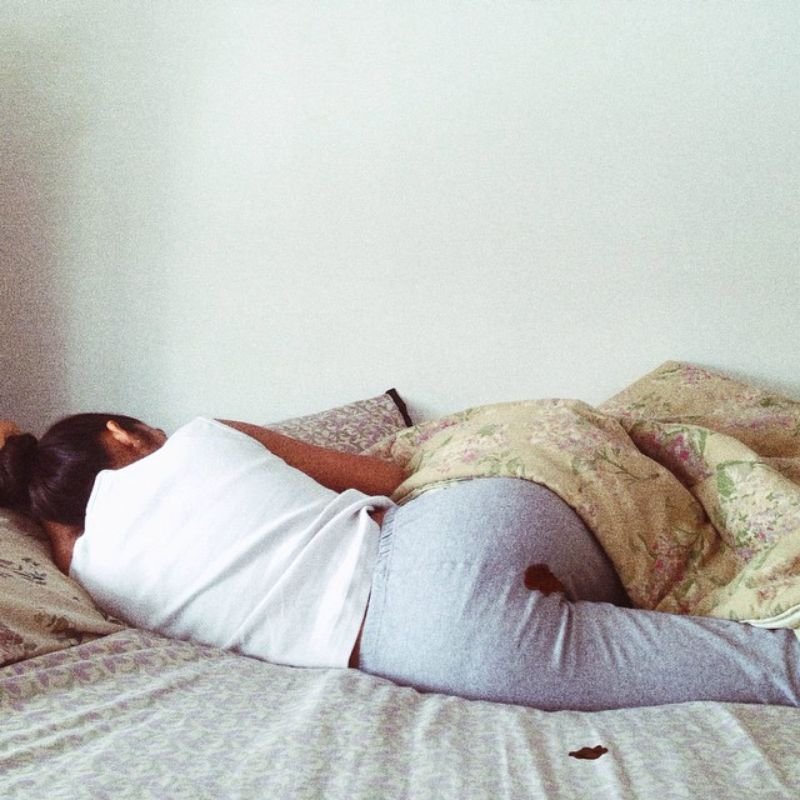 Is it artistic expression or something else?
The picture above was deleted from Instagram for "violating" the social media's community guidelines. The photo does not contain any nudity, violence or offense wording. So why was it deleted? Well poet, Rupi Kaur believes she may have an answer.
The poet reposted the picture with the following message after the picture was deleted.
 "thank you @instagram for providing me with the exact response my work was created to critique. you deleted a photo of a woman who is fully covered and menstruating stating that it goes against community guidelines when your guidelines outline that it is nothing but acceptable. the girl is fully clothed. the photo is mine. it is not attacking a certain group. nor is it spam. and because it does not break those guidelines i will repost it again. i will not apologize for not feeding the ego and pride of misogynist society that will have my body in an underwear but not be okay with a small leak. when your pages are filled with countless photos/accounts where women (so many who are underage) are objectified. pornified. and treated less than human. thank you. ⠀⠀⠀⠀⠀⠀ ⠀ ⠀⠀⠀⠀ ⠀⠀⠀⠀ ⠀

This image is a part of my photoseries project for my visual rhetoric course. you can view the full series at rupikaur.com
⠀⠀⠀ ⠀⠀⠀⠀ ⠀
i bleed each month to help make humankind a possibility. my womb is home to the divine. a source of life for our species. whether i choose to create or not. but very few times it is seen that way. in older civilizations this blood was considered holy. in some it still is. but a majority of people. societies. and communities shun this natural process. some are more comfortable with the pornification of women. the sexualization of women. the violence and degradation of women than this. they cannot be bothered to express their disgust about all that. but will be angered and bothered by this. we menstruate and they see it as dirty. attention seeking. sick. a burden. as if this process is less natural than breathing. as if it is not a bridge between this universe and the last. as if this process is not love. labour. life. selfless and strikingly beautiful.
Of course in true Instagram fashion, the network took the post down AGAIN.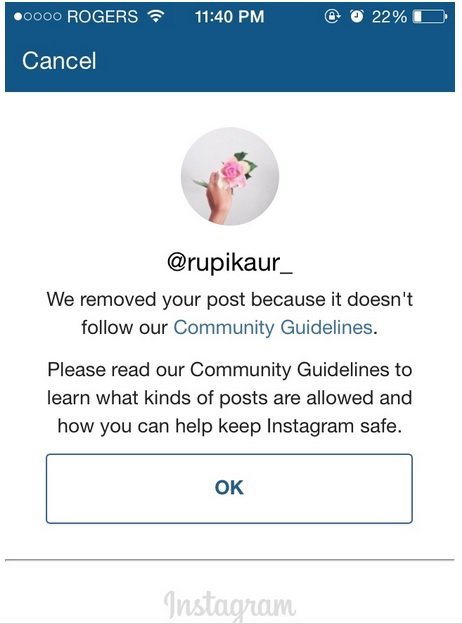 The poet then wrote on Tumblr :
"Dear tumblr family,

Instagram has chosen to once again, take down this image for violating community guidelines. Despite the fact that about 95% of comments were beautiful. And in support.
This just goes to show who is sitting behind the desk. And who's controlling the show, who's controlling the media and who's censoring us.It's sad that this is still happening in this world. I know that some communities and cultures go out of their way to shun and oppress a woman on her period. I guess Instagram is another one of them. Some women aren't allowed in their religious place of worship or out of their homes to do certain things. And are told they are sick. As if the period is a common cold.

Yes. This is what happens even here, in North America.

I have been hospitalized many times because of issues associated with my period. I have been suffering from a sickness related to my period. And ever since I have been working so hard to love it. Embrace it. Celebrate it. Even thought it's given me so much pain in the past few years. and they want to tell me I should be quiet about this. That all of this we experience collectively does not need to be seen. Just felt secretly behind closed doors. That's why this is important. Because when I first got my period my mother was sad and worried. And they want to censor all that pain. Experience. Learning. No.

I am going to share the photo again once I figure out how to go about it. I would appreciate if you could @instagram and express your thoughts. Or even share the photo on whatever social media platform.

Their patriarchy is leaking. Their misogyny is leaking. We will not be censored."
As of today, after reposting again, the photo is still up on Instagram.
What do you guys think? Was Instagram wrong for this? Is this just art? Or is Rupi correct?
Every time I attend some type of after work event, I'm reminded why I'm so comfortable in my introversion. Though I like to think of myself as a fly on the wall at these events, I know I probably come across as the weird girl who didn't break eye contact when you saw her blatantly staring at you, listening intently to your conversation.
#Creeplife
I found myself playing this role at a mixer last week. It was one of those events that promised to bring out an equal number of men and women. And after about two hours, that was true. But before then, there was literally a sea of women. It was clearly an event for women to meet men; and in the best case scenario, form relationships. I always hesitate to go to these type of events because the thirst level is usually on swole at such events and honestly, I think when the pressure to find someone is that high, the results are usually disappointing.
So I went with the intent to observe.
And while I thought I'd get an eyeful of desperate women, instead I was most interested in one particular man in the room. I won't call any names, but this particular man has a pretty large following on Instagram. Women follow him because he promotes… himself and they regard him as some type of sex symbol. And he always has a clever way to share an observation or offer a word of encouragement. The women who I know who've followed (and some who've later unfollowed) him have either dubbed him sexy, smart and funny or obnoxious and self absorbed.
So of course, spotting him in the crowd, I was excited to see what he was like in person. In real life, this Instagram celeb was…on Instagram. The backlight on his phone illuminated his face for several minutes throughout the night, until a woman was brave enough to approach him.
Later, this man wrote an Instagram post about the event being popping even though the women in the room were salty when they saw him talking to one of them.
I'm pretty good at picking up a vibe; but my eyes can't be everywhere at all times, so there was a chance that I could have missed something. But I didn't see anything like this.
Even still, watching the people in the room I saw just how much social mixers, in a lot of ways, resemble middle school dances. There are a few brave girls dancing in the middle of the floor, maybe a flirtatious conversation being had in the wings. But for the most part, boys are on one side and girls are on the other. The men are joking with their guy friends and the women are dancing with their girls.
I guess it really shouldn't come as a surprise that someone who is popular on the internet, doesn't come across as super charismatic in the physical. The irony of it all is that social media has become a place for socially awkward people to thrive. As someone who identifies with this group, I can't exactly be mad at that. My people deserve shine too.
Have you ever met someone who was digitally famous, only to discover you liked them better when you were looking at them through a screen?
Ever found yourself searching for an Instagram hashtag that should be there but all you see is "no hashtags found?" Chances are you've stumbled on one of these banned Instagram hashtags. So before you tag your next post, make sure that what you're trying to say hasn't already been censored.

These celebrities are finding out that it's harder to be famous on Instagram than you think.
Social media users were in for a surprise on Monday evening when social networking giant Facebook and its photo-sharing platform Instagram experienced a temporary outage that left millions of users unable to access their accounts.
For roughly 40 minutes, users across the globe had issues accessing Facebook and Instagram. Instagram said it was aware of the outage in a tweet, which was later deleted:
"We're aware of an outage affecting Instagram and are working on a fix. Thank you for your patience."
Other sites reportedly affected during the outage include dating app Tinder and instant messaging app HipChat.
If you were attempting to refresh your favorite platforms and didn't have much luck, this was the reason. Of course, there was no shortage of commentary on the outage since many took to Twitter to weigh in on the issue.
Facebook and Instagram are down. Is everyone OK? Lol!

— Monique Frausto (@BLOGSbyLATINAS) January 27, 2015
So, what was behind the service breach? While hacker group Lizard Squad, which has been connected with other high-profile attacks, tweeted messages implying they'd been behind the outages, Facebook denies those claims.
Facebook, Instagram, Tinder, AIM, Hipchat #offline #LizardSquad

— Lizard Squad (@LizardMafia) January 27, 2015
"This was not the result of a third-party attack but instead occurred after we introduced a change that affected our configuration systems," Facebook said in a statement. "We moved quickly to fix the problem, and both services are back to 100 per cent for everyone."
Based in New York City, Janel Martinez is a multimedia journalist who covers technology and entrepreneurship. She is the founder of "Ain't I Latina?" an online destination geared toward Afro-Latinas. You can follow her up-to-the-minute musings on Twitter @janelmwrites.