All Articles Tagged "Flings"
Hollywood relationships between two celebrities are all but expected nowadays, but there have been some celebrity hook ups that shocked us all. From a mismatched couple to a relationship that was so quick no one knew or talked much of it, there have definitely been some celebrity relationships that no one saw coming. Here are 15 of those.
Kathy Griffin & Jack Black
Jokesters Kathy Griffin and Jack Black had a brief fling together, but can you image all of the laughs these two had? Nowadays Kathy is dating Randy Bick, a guy 17 years younger. On the other hand, Jack Black is now married to Tanya Haden.
With former boos Chris Brown and Drake exchanging more than words during a bloody brawl at a New York city nightclub recently, past gossip pinning the Bajan singer with Ashton Kutcher, and reports that Rihanna and Chris Brown were seen kissing as they met up during their vacations in Saint-Tropez this week, Rihanna's love life has been all over the news lately.
With all the public relationships Ri-Ri has had, it would be surprising if there wasn't any drama or gossip. After all, Rihanna definitely seems to have a thing for famous and fine men. Normal guys just don't seem to cut it for her!
At age 24, the singer has already had her fair share of high profile flings, rumored boo-ships and relationships. Here are the famous cuties (that we know about) that have been with, dated, or been rumored to have found love in a hopeless place with the superstar over the years.
In Hollywood, it seems that everyone dates everyone and relationships start and end as quickly as people change underwear. But the best Hollywood relationships, even if they don't last, are the ones that nobody knew about. The ones that you share with friends that get the, "WHAAAAAT!? I didn't know that, girl!" response. But let's be clear: there's a difference between simply dating in Hollywood, and claiming one another in a relationship. There have been a flurry of both of those kinds of correspondences that started quietly and ended just as quiescent, and here are just a few we thought you might be nosey enough to want to know.
And if you did know some of them, that's all good and dandy too. But either way, enjoy!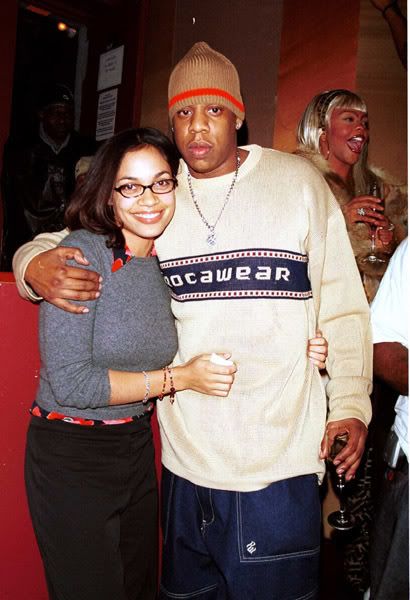 Jay-Z and Rosario Dawson
Before he really got serious with Beyoncé and was a household name, and supposedly after an alleged short boo-ship with the late Aaliyah, Jay-Z was romantically involved with actress Rosario Dawson. You know Rosario, she was the actress in movies like Kids, He Got Game, Sin City and a lot more. Their relationship…or time together doing whatever it was they were doing…occurred in 2000, and people even assumed that the second verse in the song "Lost Ones" was about Dawson (that was until Jay set the record straight in Decoded, saying the song was about Bey). But it didn't last long.  Jay went on to date Beyoncé and Rosario, at the time, went on to date "Sex and the City" hunk Jason Lewis (who played Kim Cattrall's young actor boo). No offense to Jigga, but what an upgrade!
The weather is getting warmer, flowers are blooming and legs and pedicured toes are in full effect. It's spring time, and people are coming out of hibernation feeling feisty and flirty. As temperatures rise, so does our sex drive, hardwired to react to seasonal changes. After being bundled up for a few months, it's natural to want to go from cabin fever to spring fever.
Here are 6 ways spring time increases the heat in all of us!…
Tags:
Flings
,
flirty
,
heat
,
love
,
lust
,
relationships
,
renewal
,
seasons
,
spring
,
spring cleaning
,
Spring Fever
,
summer love