All Articles Tagged "chelsea settles"
Last year, we met a girl in a MTV series on an incredible journey. She was bubbly and ambitious, yet vulnerable and not yet sure of herself at times. Within her we saw a bit of ourselves. As Chelsea Settles transformed her body, and as a result her entire life in front of us, we'd watch her get closer to her goals and we were inspired to map out some of our own.
We caught up with Chelsea, and she filled us in about her life after the show, and how her journey still continues long after filming ended. In the final part of the StyleBlazer 5 Days of Fitness series, we believe her message about beauty and picking yourself up after falling down resonates with all women. We hope that she inspires you to pursue your dreams in 2013, and for the rest of your life.
Life when the director called cut…
"I left L.A. maybe three months after we stopped filming because I wanted to be near my family. It was actually the worst decision of my life. The people I grew up around, they were acting so weird. I don't look at myself like any differently. I had an amazing opportunity but I'm still just Chelsea. I don't need all of the bells and whistles that have come along with any of that. It was also hard to be back in a space where there was so much negative energy around, and I just felt like I was right back where I was when I was 325 pounds and feeling miserable. I'm actually finally out of my contract. I would never do another docuseries ever [laughs]. It was so hard for me, just filming for 12 hours, 8 hours some days, and the show was only 50 minutes. I feel like people didn't get an accurate look of who I really am. I'm glad that I wasn't shown in a bad way so I don't want to sound ungrateful. Not something that I expected. But I might be overreacting a little [laughs]. I was just really thinking, I want to lose weight.
Check out the full interview on StyleBlazer.com.
About two months ago I was watching an episode of "Chelsea Settles" on MTV.com. I can't remember exactly what happened that episode; but at its conclusion, I looked over at my sister and said in all seriousness, "I love Chelsea. Like for real, I love her."And I don't think I was being overly dramatic; as I've been known to do, I genuinely mean it.
If you've ever seen an episode of "Chelsea Settles," you know the show is something like a coming of age story. Chelsea, a recent college grad from Uniontown, Pennsylvania, decides to move to L.A. to pursue a career in fashion. If you've never seen the show you might wonder why her story is worthy of a reality show. Good question. Unlike most college grads, at the start of her show, Chelsea weighed 325 pounds. (Which she carried rather well.) Looking at her, fully dressed, I never would have guessed Chelsea weighed that much. But when she revealed her stomach to be measured, it was painfully clear that the scale was not lying.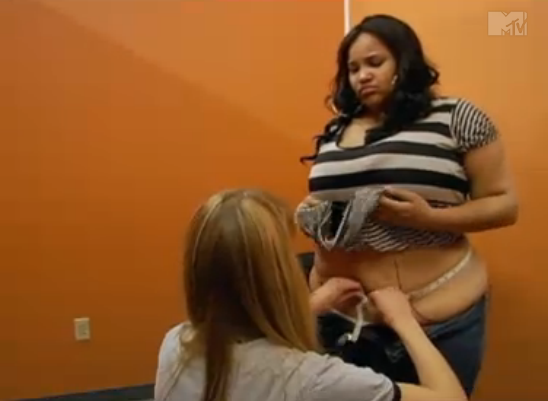 As you might suspect, her weight was a big hindrance. It literally affected every interaction in her life. When she met someone, she worried that they would judge her because of her weight. If she went out and things didn't go as planned, she assumed it was because of her weight. And I'm convinced she stayed (or is still) in a lackluster relationship because she was scared that no one else would accept her and her weight.
[There was this brotha on the show who was finer than her current boyfriend, showed genuine interest in her--who she also liked; but she would not give him the time of day. Maybe I should commend her loyalty; but if I had a boyfriend who cheated on me in the past, I don't think I would be inclined to go so super hard for him when I could upgrade. But that's a story for another day.]
For better or worse, America is a country obsessed with weight loss. (Especially at this time of the year. Including this one, we've featured three stories on weight loss, just today.) So it's no surprise that Chelsea would garner a lot of attention. But Chelsea's story is more than just losing weight. It is about body image, self confidence, opening yourself up to new opportunities and getting rid of the baggage.
While some of Chelsea's baggage was physical, we all can relate to carrying around literal or figurative weight we should have put down a long time ago. (See Erykah Badu's "Bag Lady.") Chelsea's story is universal. That's why it is so inspiring to watch her shed pounds and baggage throughout the course of her show. We saw Chelsea learn to trust people, get a job in the image conscious fashion industry, excel at that job, speak up for herself and most importantly identify what events in her life caused her to gain the weight in the first place. We watched her shrink in size and grow as a woman all at the same time.
I couldn't be happier for her…or so I thought, until I saw a picture of her in a recent interview with Us Weekly.
Chelsea told the magazine since she's started working out and eating healthily, only when she's hungry, she's lost 116 pounds. Can a sista get a hand clap? Wow! Chelsea's story is inspiration for all of us. Her weight loss journey can show anyone, of any size, that when you address your issues and work toward moving past them, you'll be able to conquer seemingly insurmountable odds.
You gotta love this girl for that.
More on Madame Noire!
CNN is reporting that plus-sized women are more accepted on TV than ever. In an interesting turn of cultural events, more shows featuring larger women are making a big impact — particularly if producers use the fact that the woman is anything but stick thin in order to promote interest in the show.  CNN reports on how a woman of color featured in the MTV reality series "Chelsea Settles" is leading this new trend in size acceptance:
When a 324-pound Chelsea Settles moved to Los Angeles, she brought a bikini-clad mannequin along to inspire her to lose weight.

Now, as the first season of "Chelsea Settles" unfolds on MTV, the mannequin in the 23-year-old reality star's bedroom is nothing more than a functional statement piece. Doubling as a coat rack and guitar stand — "It's definitely not what it was when I first started," Settles says.

And Settles' reality show, originally marketed as a weight loss/transformation series, has progressed right along with her.

The pilot, which focused on Settles' measurements and eating habits, gave way to less weight-fixated second and third episodes about a college graduate trying to make it in a new city. [...]

Failing to point out a plus-size character's weight is like — for lack of a better idiom — ignoring the elephant in the room, one TV insider said. But once weight is discussed, storylines can unfold naturally, allowing viewers to get to know the person behind the plus-size label.

That's certainly been true for CBS's hit show "Mike & Molly," which originally took heat for leaning on fat jokes. Now, in its second season, the sitcom draws laughs with family and relationship humor. [...]

So is Hollywood evolving to be more accepting of the overweight?

It certainly appears that way.
Now "Mike & Molly" star Melissa McCarthy is parlaying her success into screenplay sales, hawking TV pilot scripts, and even the creation of a plus-sized fashion line. You go girl!
Of course, celebrating and enjoying the plus-sized woman is nothing new for blacks. Our icons have always been curvy, and figures such as Mo'Nique, the old Star Jones, and even Aretha Franklin have been revered despite not appearing to be anorexic. It is really the mainstream standard of beauty that has required a woman to be adolescent in proportions to be considered fabulous. Black women have always known that beauty comes in all sizes.
Yet again, our aesthetic style is being "discovered" by the mainstream and enjoyed as if it is something new.