All Articles Tagged "Blood"
Many of us are just so relieved when blood work is over that we zone out when our doctor calls to tell us what our results mean. It doesn't help that many doctors downplay what the results mean. Or, they aren't familiar enough with your medical history and lifestyle to realize that a small change in your bloodwork could actually be significant, considering your history and lifestyle. If you receive your results via email or a letter and don't actually get to talk to your doctor face-to-face, then you're just facing a blur of jargon, numbers, and figures that mean almost nothing to you. But blood work should matter to you; it can tell you a tremendous amount of information about your health–it detects things that a simple physical exam cannot. So here are eight things most people don't know about blood work.
I'm sure you already have your summer all planned out. You aim to do some traveling, hit up some festivals, relax on the beach and attend as many day parties as possible. But in the midst of making the most of this season, the Red Cross is asking that you make time to donate blood. Not to be a Debbie Downer, but the organization's inventory is getting low, and nothing is more of a downer than people in need of blood who can't access the type they need to save their life.
We talked with Red Cross EVP Chris Hrouda about this shortage, why the summer is the worst time of year for the organization, which group of people they usually rely on, and what you and I can do to help.
MadameNoire: Why is summer such a hard time for blood donations?
Chris Hrouda: Summer is usually a very challenging time for us, and it's really about access to donors. Folks are busy in the summer; they're enjoying their vacation time, they're out doing summer activities. We just came off the Fourth of July for example, and a lot of folks weren't available to donate blood, so we're particularly short from that.
You add to that that about 20 percent of our blood donations annually come from students that are in college and high schools and we just don't have access to those donors in the summer. Our donor base really takes a hit in the summer and it's really difficult for us to make up the difference.
MN: Why is there usually such a large contribution from young people in high school and college?
Hrouda: College campuses and high schools are usually very community active, and blood donation is typically an important part of their community activism. So we have blood drives at high schools all over the country, and we certainly have blood drives on college campuses. On campuses it can be in departments, it can be in fraternities and sororities, and it can be in dorms. We have lots of different mechanisms to have students contribute on college campuses. We just do really well. Students show up and participate in a big way. But unfortunately, it's really about nine months of the year that we're able to have access to those students.
MN: Is there a way to do drives in a gym or fitness facility? Maybe people who care about health and fitness may be more eager to help. I don't often see many drives geared towards working adults.
Hrouda: We have thousands of them across the country every day. Go to our website at redcrossblood.org or call us at 1-800-Red-Cross, or go to our app. We have a great app for blood donation and people can see exactly where we have locations. We have locations in businesses, we have locations in faith-based organizations, we have locations in community centers, sometimes we have bus drives parked outside of big-box stores and other locations, so we have a lot of locations for people to contribute. We try to make it as convenient as possible.
MN: Just how bad is this current blood shortage?
Hrouda: It's a very significant shortage. We have issued an emergency call for blood donors across the country. We're asking that anybody who's eligible to donate red cells or platelets to do so now. Over the last several weeks and months, we've actually collected about 40,000 less units than our hospitals have requested. We've used our inventory to meet that need, and now our inventory is severely depleted. We need to replenish them and we need to replenish them soon.
MN: Could you explain what the difference is in blood and platelet donations?
Hrouda: Platelets are primarily used to stop bleeding. In most cases, they're used in large parts for trauma patients, and in a big way for cancer treatment. Red cells are used to replace the oxygen-carrying capacity of your blood. So that's also used heavily in trauma situations, lots of surgical procedures, as well as cancer in some cases. Both products are needed desperately right now. Platelets only have a five-day shelf life, so we have to replenish those supplies regularly. And blood is only 42 days. People may think that blood and platelets last a long time — they don't. They have a very short shelf life. And we need people to donate regularly to ensure that we have a readily available supply.
MN: So what's the best way to help out right now?
Hrouda: Come out and donate now. Donate yourself and get friends and family to come out and donate. The more people we have at our blood drives, the better off we are.
You heard the man. Head to redcrossblood.org, call 1-800-Red-Cross and download the blood app to figure out how to schedule an appointment and help to make a difference. Every ounce counts.
"Blood, Sweat & Heels" star Geneva S. Thomas was reportedly arrested on Tuesday for ditching a cabbie before paying!
Apparently the reality star exited the cab before paying the driver her $18 fare. The cab driver then provided the address he dropped her off at to the authorities and tracked her down. Geneva was arrested and now the taxi company is looking to pursue theft charges against Geneva!
However, Thomas is screaming the entire incident is a load of crap and suing everyone involved. Geneva has a court date set for January.
*Update With Geneva's Response*
On September 9, 2014, Geneva S. Thomas was involved in a dispute with a New York Yellow Taxi Cab Driver. Upon entering the vehicle, Geneva informed the driver of her desire to pay via credit card for services rendered and that she did not have cash. The driver became threatening and hostile following a line of question as he attempted to deviate from the planned route as a method to unfairly increase the fare. The driver became defensive and tried to force Geneva out of the vehicle in a highly trafficked area. Geneva placed two calls to 911 to diffuse the disagreement—once while she was in the cab and secondly upon arrival at her final destination. Geneva values the time and services of others, and was fully prepared to pay the agreed rate of $15.00. Geneva, along with bystanders on the scene, offered to pay, and the cops refused to allow anyone to do so. The New York Police Department proceeded with an immediate arrest without investigation. In this unfortunate situation, the New York Police Department's unjust actions demonstrate an ongoing and well-documented pattern of behavior. The cab driver himself stated the arrest was unnecessary. Geneva finds these charges to be frivolous and unwarranted, and looks forward to proving her innocence. Geneva and her team will take action to create awareness ensuring this never happens to another woman in New York City ever again.
Just weeks after he was released from jail and promised to get his life together, Chris Brown was in the club throwing up gang signs. Blood signs to be specific.
In a BET after party, probably before he was seen being carried out by a group of guys, someone captured a video of Brown throwing up a series of Blood affiliated gang signs. And judging by the fluidity of his finger movement, he's not new to this. He even gave a shout out to a subset of the Bloods, the Fruit Town Piru. According to TMZ, Piru is a street in Compton where the first know Bloods gang was originally formed.
Chris has been seen spray painting a wall in Hawaii with the Fruit Piru name and TMZ believes that he had several members of the gang living with him before he served his time.
Sigh.
Y'all know we want Chris to win but it seems like he's hell bent on doing something different. But what do you think, are we making a big deal out of this for nothing or do you think this represents a bigger issue?
You can watch the video of him throwing up the signs in the club below.
When we first reported on Bravo's new reality show, "Blood, Sweat and Heels" starring Melyssa Ford and relationship expert Demetria Lucas, many of you questioned what the difference between this show and other reality TV series would be. According Melyssa, the difference is the fact that the stars of this show have real careers as opposed to hobbies that are ultimately funded by rich boyfriends and husbands.
"We are very independent women," the former video vixen told Jason Lee. "None of us are married, none of us have children. One of us is engaged and one has a live-in boyfriend but the other four, we're still trying to figure it out. We just represent that demographic of women who have unapologetically pursued their ambitions and their career goals. These careers aren't the result of a man funding a hobby for us."
She adds that although she may have dated wealthy men in the past, she never confused their money for her own.
"We're self starters and even though we've dated men with means in the past, in my case, I've never looked at what he had as what belongs to me. That's your sh**. I want my own sh**. I don't want what I eat to only be what he brought to the table. I have got to be able to take care of myself because you can't guarantee anything is going to last. So, that's who we are. We're six independent, ambitions, career girls making it hot for ourselves in New York City."
Melyssa also further explained her career switch from video modeling to real estate.
"The entertainment industry is very fickle," Melyssa said. "You are hot today and you are ice cold tomorrow. Your relevance and your popularity sometimes depend on you compromising things about yourself and I just wasn't prepared to do something like that. I had become exhausted by the whole process and I was looking for a way to create a stream of revenue for myself that A) Did not depend solely on my looks or my popularity but depended on my hard work and dedication. I also was trying to find a possible exit ramp. If I chose to completely exit and leave the entertainment industry behind I needed to find something that I could do for a long time."
Did you catch Sunday's episode? Will you be sticking around for episode two?
Follow Jazmine on Twitter @JazmineDenise
A few months ago, we shared details of a new reality series on Bravo called "Blood, Sweat And Heels (BSH)," which finally made it's network debut last night. In case you need a refresher, the series revolves around women in the Concrete Jungle who pound the pavement to turn their side hustles and passions into careers. Taking place in New York City, the series features black women in the media, fashion, and real estate industries.
Melyssa Ford, Demetria Lucas, Geneva S. Thomas, Brie Bythwood, Mica Hughes and Daisy Lewellyn are the women who invite us into their brands and their lives — for good and for bad. Over the course of the premiere, we were stunned and pained to hear Daisy and Brie agree women cannot be world leaders because of PMS. After hearing their comments, Lucas decided both ladies offered a "piss-poor display of womanhood," and then argued as such on her blog, A Belle In Brooklyn. Daisy, of course, rallied the troops and decided they all need to confront Demetria, while making an off-hand comment about all bloggers being unattractive. And though we have yet to see the aftermath of the confrontation, two things are certain about BSH so far: it is far better executed than Vh1's "The Gossip Game" and Demetria Lucas stands out from the rest of her cast members.
BSH is not only intriguing but seamlessly identifies with their audience, regardless of their archtype, whereas "The Gossip Game" was only relatable if you followed the hip-hop entertainment scene in New York. Although some of the women from BSH may be a part of the same industy and culture, BravoTV ensures the cast a more mainstream television identity. Also, from what we have seen thus far the cast stirs the drama but leaves the cattiness at the door, which is refreshing since viewers are used to the emotional — and physical — trauma reality television usually provides. Demetria Lucas, who has been dubbed the Black Carrie Bradshaw, has become a household name overnight. Ensuring her site A Belle In Brooklyn logo was seen throughout BSH's premiere, Lucas is strategically using the Bravo TV's platform to elevate he journalism and life coach career paths. Let's hope the other ladies do the same.
Below is a clip from the 'Blood, Sweat And Heels' premiere. Did you tune in last night?
So have you all seen the new Erykah Badu/Flaming Lips video? You haven't? Well, I can describe it for you in just one word: Um….
For a more detailed description, the video, which was directed by George Salisbury, features Badu crooning to the remake of Roberta Flacks' version of "The First Time Ever I Saw Your Face" while her fully naked younger sister Nayrok frolicks about in bathtubs full of glitter, then blood, then some substance with a white and thick consistency. I'm just going to come right out and call it semen (seriously, that's what it looked like). Anyway, the entire video is shot in one sequence repeated three times, with Badu singing, often times butt naked in a tub, while her younger sister gives us full on boobs, then butt and for the finale, a full frontal shot. Did I mention that this was a music video?
Oh, if you were wondering, the Flaming Lips were in the video too-albeit fully clothed. They stood around, beating fur covered snarl drums, twirling aluminum foil and made ugly ecstasy faces into the camera. For a song called "The First Time Ever I Saw Your Face," ironically, we only get to see Nayrok's face and that isn't until the end, when she is dripping the ambiguous white stuff all over it. Try getting that visual out of your head?
The video has been mostly removed from YouTube and scrubbed from much of the Internet, with the exception of a few sites being smart enough to actually download the clip and save it to their own domains. However, if you haven't seen it yet, know that it's more audacious than the "Window Seat" video. And it is probably more abstract and eclectic than anything that Badu has ever attached her name too. It's clear that Badu is seeking to translate her flare for the multifarious into other realms of art but, the video is a serious head scratcher. It is probably the most "WTF" Badu video I have ever seen. And we are talking about Erykah Badu here, so you know that's saying a bunch. I'd like to say that I could get past all the naked booty to find a deeper meaning, but I kept coming back to the same conclusion: I just watched a video of a naked woman covered in glitter, blood and semen. So has Badu finally gone off the deep end?
Christina Aguilera is really one of the more talented, powerhouse voices we have in the industry today. And nowhere was that more evident in the rendition of "At Last" that she performed at Etta James' funeral service this past weekend. Aguilera, who performed James' "Sunday Kind of Love" at her first Star Search competition, said that Etta was one of her idols. And she showed her respect and admiration through the performance.
Check out the video below.
Her talent is virtually unmatched. Yet, there always seems to be something that prevents Christina from letting her star shine the way it should. Whether it's a raunchy video, a failed marriage, public intoxication or ill fitting clothing there is always something that prevents us from focusing on her talent alone. While her tribute to Etta was audibly flawless, visually it was gross at worse and unfortunate at best.
Towards the end of her performance there were streaks of a mystery liquid running down Aguilera's legs. Some are saying it was blood from her period, while others are saying it was fake tanning spray. Check out the pictures and let us know what you think it is.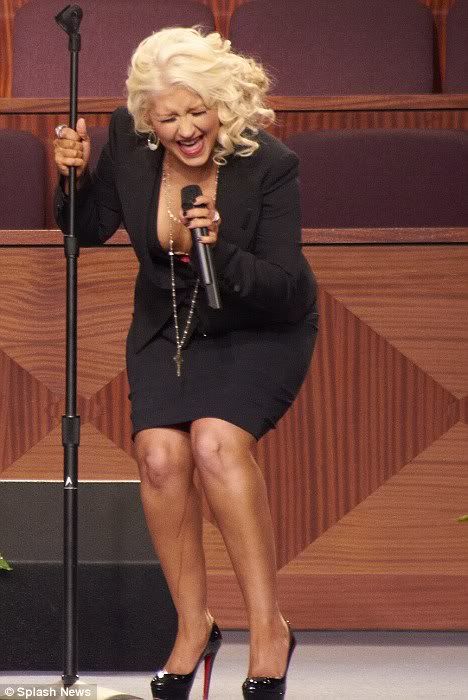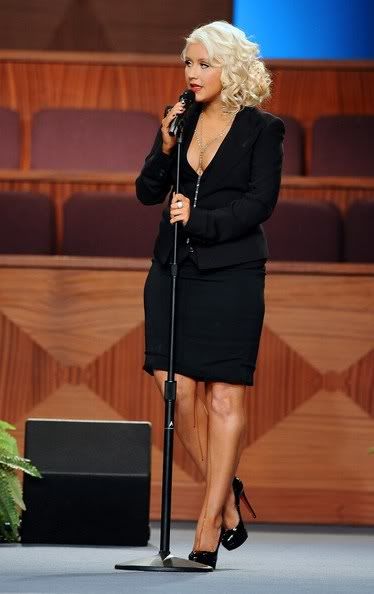 We're sincerely hoping it was the spray.
More on Madame Noire!
(AOL Black Voices) — Rappers talk about their "bling," and women lust for the brightest engagement ring they can get. Some people even wear diamonds in their teeth to show how much money they've got. Black Americans are dying to have the hottest diamonds around our necks, while other black people are literally dying to supply them. In Africa, "blood diamonds" are intimately related to brutal conflicts throughout the continent, as groups use the diamond trade to finance civil and other wars that have resulted in the slaughter and disfigurement of millions.
(AOL Black Voices) — Rappers talk about their "bling," and women lust for the brightest engagement ring they can get. Some people even wear diamonds in their teeth to show how much money they've got. Black Americans are dying to have the hottest diamonds around our necks, while other black people are literally dying to supply them. In Africa, "blood diamonds" are intimately related to brutal conflicts throughout the continent, as groups use the diamond trade to finance civil and other wars that have resulted in the slaughter and disfigurement of millions.