About two months ago I was watching an episode of "Chelsea Settles" on MTV.com. I can't remember exactly what happened that episode; but at its conclusion, I looked over at my sister and said in all seriousness, "I love Chelsea. Like for real, I love her."And I don't think I was being overly dramatic; as I've been known to do, I genuinely mean it.
If you've ever seen an episode of "Chelsea Settles," you know the show is something like a coming of age story. Chelsea, a recent college grad from Uniontown, Pennsylvania, decides to move to L.A. to pursue a career in fashion. If you've never seen the show you might wonder why her story is worthy of a reality show. Good question. Unlike most college grads, at the start of her show, Chelsea weighed 325 pounds. (Which she carried rather well.) Looking at her, fully dressed, I never would have guessed Chelsea weighed that much. But when she revealed her stomach to be measured, it was painfully clear that the scale was not lying.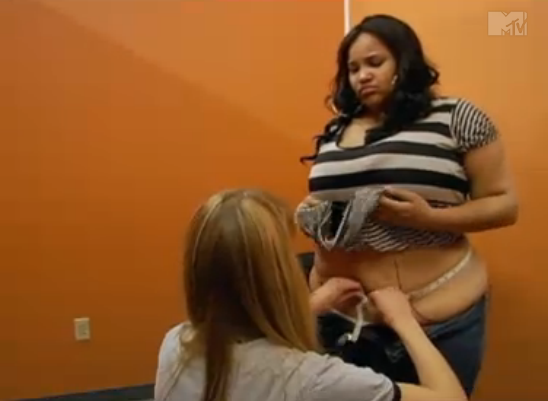 As you might suspect, her weight was a big hindrance. It literally affected every interaction in her life. When she met someone, she worried that they would judge her because of her weight. If she went out and things didn't go as planned, she assumed it was because of her weight. And I'm convinced she stayed (or is still) in a lackluster relationship because she was scared that no one else would accept her and her weight.
[There was this brotha on the show who was finer than her current boyfriend, showed genuine interest in her--who she also liked; but she would not give him the time of day. Maybe I should commend her loyalty; but if I had a boyfriend who cheated on me in the past, I don't think I would be inclined to go so super hard for him when I could upgrade. But that's a story for another day.]
For better or worse, America is a country obsessed with weight loss. (Especially at this time of the year. Including this one, we've featured three stories on weight loss, just today.) So it's no surprise that Chelsea would garner a lot of attention. But Chelsea's story is more than just losing weight. It is about body image, self confidence, opening yourself up to new opportunities and getting rid of the baggage.
While some of Chelsea's baggage was physical, we all can relate to carrying around literal or figurative weight we should have put down a long time ago. (See Erykah Badu's "Bag Lady.") Chelsea's story is universal. That's why it is so inspiring to watch her shed pounds and baggage throughout the course of her show. We saw Chelsea learn to trust people, get a job in the image conscious fashion industry, excel at that job, speak up for herself and most importantly identify what events in her life caused her to gain the weight in the first place. We watched her shrink in size and grow as a woman all at the same time.
I couldn't be happier for her…or so I thought, until I saw a picture of her in a recent interview with Us Weekly.
Chelsea told the magazine since she's started working out and eating healthily, only when she's hungry, she's lost 116 pounds. Can a sista get a hand clap? Wow! Chelsea's story is inspiration for all of us. Her weight loss journey can show anyone, of any size, that when you address your issues and work toward moving past them, you'll be able to conquer seemingly insurmountable odds.
You gotta love this girl for that.
More on Madame Noire!